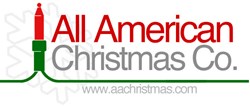 All American Christmas Company is gearing up for the upcoming holiday season by accepting early orders on all of their Christmas Lights. Full details are available online at http://www.aachristmas.com.
Sparta, Tennessee (PRWEB) September 03, 2013
Because it's never too early to start planning for the Christmas holiday season and Christmas lighting displays, All American Christmas Company is now accepting early orders for the upcoming holiday season. All American Christmas Company is the leading source to turn to for the most extensive selection of Christmas lights and other decorations. As summer winds down, All American Christmas Company is just beginning to gear up for its annual rush of residential and commercial customers who will soon be making preparations for the upcoming holiday season.
While Christmas is the focal point of their business, All American is also the leading source for all major holidays, including Halloween and Thanksgiving decorations and lighting displays, so they anticipate another busy fall season before their crushing annual Christmas rush. Even with the Christmas season a few months away, savvy holiday lighting shoppers know to plan far in advance while supplies are plentiful in order to claim bragging rights for having the most eye-catching displays in their neighborhoods, store and business sites, and or community locations.
All American Christmas Company is making shopping early even more rewarding with 10 percent discounts for orders of $40 or more placed online at aachristmas.com, using the promotion code save10. The discount can be used on All American Christmas Company's thousands of products, which include virtually every type of Christmas lighting imaginable, particularly the most popular varieties of small Christmas lights, and LED Christmas lights.
All American Christmas Company has developed a well-deserved reputation as the leading source for all types and sizes of Christmas lighting products, such as C7 and C9 light bulbs, Christmas light strings, globe lights, and all other lighting products, including all sizes of energy saving LED Christmas lights through its 15 years of service to consumer and commercial customers as well as civic and public organizations.
All American Christmas Company's light products are used to create sparkling displays to fit all budgets and desired effects, from the individual home owner looking to have the biggest and brightest display on the block to businesses looking to create dazzling, customer pleasing memorable lighting displays. In addition to boasting one of the largest inventories of holiday lighting products, All American Christmas Company also is known for its affordable prices and outstanding customer service and planning suggestions.
The All American staff has been helping customers create memorable displays for a quarter of a century and is always happy to assist its clients and encourages them to take advantage of their hands-on planning assistance. All American's staff of experienced lighting and display professionals can recommend the best solutions for any lighting project, including recommending the proper amount of lights and the most appropriate selection of lights needed to cover the desired surfaces.
All American Christmas Company's expertise is available for all customers, large or small, and the lighting experts can always be counted on to treat all orders with equal attention. They eagerly assist individual homeowners or small businesses select the most appropriate products to fit their budgets with the same attention they extend as one of the premier suppliers and designers of commercial holiday light displays for thousands of organizations, businesses, and municipal groups across the nation. All American's lighting displays have been used to create festive displays for venues such as Universal Studios Florida, the Reno-Hilton, Martha Stewart Living, Radisson Hotels, the Minneapolis Convention Center, Marriott Frenchman's Reef, Harvard University, Great American Restaurants, CBS This Morning, Brown University, Beverly Hills Restaurant, the Alabama Shakespeare Festival, and several military installations, to name just a small sample of their satisfied customers.
All American's scope goes far beyond festive holiday lighting and displays. The company is also a popular choice for special occasions such as weddings, private parties, proms and formal dances, corporate events, retail displays, and shopping center and business' special lighting effects. They can make any venue a festive, special scene for a memorable event with their unmatched designing and lighting services.
All American Christmas Company's full line of products and services are presented year round online at aachristmas.com. Experienced service representatives are always ready to answer questions, to provide planning and designing advice, and to help place orders by phone at (931) 836-1212. All American receives fax inquiries and orders at (931) 836-2002.