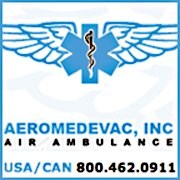 Aeromedevac is now offering international air ambulance flights to and from all locations in Mexico and the United States. More information is available online at www.aeromedevac.com
San Diego, CALIFORNIA (PRWEB) September 05, 2013
Aeromedevac, a leader in domestic and international air ambulance service, is now offering full air ambulance medical flights from Mexico to United States medical facilities. Aeromedevac has been a leader in air ambulance services with its state-of-the-art fleet of fixed-winged aircraft for more than 20 years and provides the finest, most complete medical care for patients being transported to American health care destinations.
Patients being transported by Aeromedevac travel with the confidence of knowing they are being provided complete bed-to-bed service by a team of medical experts who handle every aspect of the move. Aeromedevac delivers total service, from organizing and planning all phases of the transportation, to handling all necessary paperwork, ground transportation and arrangements, and–most importantly–providing top level medical care in its air ambulances. Patients are assured that Aeromedevac secures all medical documents and records and maintains total confidentiality, all while treating the patient with the finest professional medical possible.
Each Aeromedevac fixed wing aircraft is designed and fully equipped to meet any emergency transportation need. All of Aeromedevac's flying ambulances are fully stocked in the same fashion as intensive care unit/emergency rooms, with all essential medical equipment that permits their specialized crews of registered nurses and critical care paramedics or other medical personnel to provide appropriate care for patients who are in need of urgent treatment.
Expediently transporting patients who are in need of extreme medical necessities such as organ transplants, cancer treatments, specialized surgery, burn care, advanced head trauma and spinal injuries, and other serious conditions that dictate accelerated medial air ambulance transportation to American facilities is the specialty for Aeromedevac's team of professionals.
Medical transportation is a stressful and sensitive matter for patients and those close to them, and Aeromedevac makes every effort to assure them that their goal is to provide the smoothest, most professional move possible. The air ambulance company strives to ease the anxiety and stress of medical transportation for patients by handling all aspects of the move while maintaining reasonable prices. They commonly transport relatives and traveling companions with the patient (along with luggage) to the U.S. at no extra charge, as space allows, on their charter air ambulance flights.
Aeromedevac's services are available throughout the United States, and it provides medical transportation for ill or injured individuals and their family members, managed care companies, hospitals, military, and governmental embassies and agencies with its fleet of smooth riding fixed-wing flying ambulances, not helicopters. The company's services are wide ranging and extend far beyond transporting individual patients on its private charter flights. Aeromedevac is frequently called upon to serve American and foreign consulates and hospitals around the world to facilitate the repatriation of injured or ill foreign nationals who require medical air ambulance service to their native countries. These services include transporting patients who do not have the proper paperwork to remain in the U.S.
Aeromedevac is recognized as one of the world's leaders in International air ambulance service as a founding member of the International Air Ambulance Alliance-Fixed Wing (IAAA), which is recognized for raising international professional standards of air ambulance providers while creating transparency for insurers, medical assistance companies, and individual clients of air ambulance services. Aeromedevac's status as a world leader in air ambulance transportation is further substantiated by accreditation from the European Aero-Medical Institute, the foremost ranker for U.S. and European air medical evacuation providers.
Interested parties can view complete information about Aeromedevac's international and domestic air ambulance services on line at http://www.aeromedevac.com. All details about the company's services and availability can be obtaining by speaking to a representative at 619. 284.7910 or 800.462.0911 in the U.S. or Canada, 1.619.284.7910 outside of North America, and 001.800.832.5087 in Mexico. All arrangements for medical transportation reservations can be completed on line or by phone and paid for with all major credit cards.