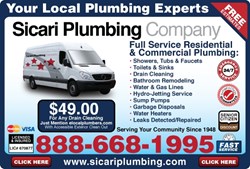 Sicari Plumbing is now offering their flat rate plumbing services in Burbank and all other areas of Los Angeles. Full details are available online at http://www.sicariplumbing.com.
(PRWEB) September 05, 2013
Sicari Plumbing, one of the leading LA plumbing area contractors for more than 30 years, is now providing flat rate plumbing services in Burbank. Sicari Plumbing has taken the guesswork out of hiring a contractor for service and repair work with its guaranteed flat rate prices that are quoted before the work is started on residential and commercial calls.
Pasadena plumbing customers are certain that the prices they are quoted are what they will be paying with no hidden fees and expensive add-ons that can typically pop up as a plumbing repair takes place with many other LA plumbers.
Sicari's dedication to customer service, excellent workmanship, and guaranteed low prices have led to three decades of satisfied customers who are the company's best advertising with their word-of-mouth recommendations and continued, longtime repeat business loyalty. Now there is even more reason to call upon Sicari Plumbing for service and repair calls: a package of major price discounts. Sicari Plumbing has reduced all water heater installations by $150 during its current sale, which also includes a flat $49 charge for drain cleaning, S159 for a one-half horsepower garbage disposer including installation, and a 15 percent discount on any work over $200.
Operating from its Pasadena headquarters for 30 years, Sicari Plumbing has come to be known as the most reliable plumbing contractor to call for always on-time service, quality craftsmanship, unmatched excellent, hassle-free, first-rate customer service, 24-hour emergency service, and the fairest prices in town with its policy of billing by the job rather than by the hour.
Sicari Plumbing's skilled technicians cover the breadth of the greater Los Angeles area, making service calls in all parts of the San Gabriel Valley, Pasadena, San Fernando Valley, and Santa Clarita areas. Sicari Plumbing's reliable and affordably priced service have made it a popular choice for home and businesses owners alike who are searching for the finest Pasadena plumber, Burbank plumber, Canoga Park plumber, Glendale plumber, North Hollywood plumber, Sherman Oaks plumber, Saugus plumber, Tarzana plumber, Valencia plumber, or Woodland Hills plumber.
Regardless of the size of the job, Sicari Plumbing is always on call to handle any plumbing problem for customers who call toll free at (888) 668-1995 or connect to their website at sicariplumbing.com. Sicari's fully equipped trucks and highly trained plumbers are on call to respond to all service, repair, and installation situations and specialize in re-piping projects to replace old and deteriorated galvanized steel pipes. Their plumbers can solve everything from annoying leaks and low flow, trickling water pressure problems to installing high quality copper pipe throughout any home or business.
One of the primary reasons for Sicari Plumbing's success and outstanding reputation is its commitment to keeping one step ahead of the competition with the latest technology, equipment, and training for its skilled plumbing crew.
"Sicari Plumbing has not stood still in its 30 year history," owner Joe Sicari points out. "We continually reinvest in ourselves, both in training and technological innovations that keep us in the forefront of the plumbing industry. Sicari Plumbing has become sewer and drain specialists with equipment like in-line cameras and locators, Hydro-jetters and more. You can actually see the problem within your pipe. The ability to pinpointing the exact location allows us to diagnose more effectively. Trench-Less technology allows us to replace your old sewer line, which eliminates all cracks, leaks, holes or roots that may be causing you trouble, without damaging driveways, landscapes, or sidewalks, saving you thousands of dollars in added repairs. Our Hydro-jetter allows us to clear stubborn grease stoppages with water pressures of over 3500 psi, leaving your drains clear and trouble free for years to come."