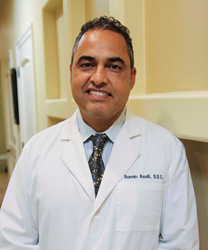 East Los Angeles, CA (PRWEB) November 23, 2016
Smiles LA, dental office in East Los Angeles, is now offering a number of promotions that will improve smiles just in time for the holiday season. Currently, patients can receive a one-hour session of Zoom whitening for just $199.00. Patients can also get a dental implant for $999.00, not including the restorative crown. A new patient offer currently available gives patients an exam and complete full-mouth X-rays for just $49.00. Also offered is $750 off the cost of Invisalign, including a free Invisalign consultation, and $99 dental extraction. None of these offers can be combined with any others, and they all expire December 31, 2016.
All of the treatments being promoted offer patients cosmetic value, and several also restore functionality and comfort. Zoom whitening is an innovative tooth bleaching option that includes three separate whitening cycles per session. Dental implants are the preferred tooth replacement for their appearance, as well as for their functionality and permanence. Invisalign, the most discreet orthodontic treatment, also is more comfortable, faster acting, and better for oral health compared to alternatives. Newcomers to Smiles LA can set a new course for their oral health with the new patient offer.
Many other treatments are available at Smiles LA, including options in general dentistry and preventive care. Fillings, including tooth-colored fillings, are offered alongside inlays, onlays, and crowns. Veneers, traditional office teeth whitening, and bonding are among cosmetic procedures at Smiles LA. Patients can also visit the office for periodontal care, used to treat gum disease, and endodontics, such as root canal therapy, for infected teeth. Several other treatments are also available at Smiles LA for treating TMJ, sleep apnea, and more.
Dr. Assili and Dr. Elyson graduated from California State University, Northridge, before going on to UCLA School of Dentistry, where they earned their DDS degrees. Since 1999, the dentists have been performing a full range of cosmetic, restorative and other dental treatments. Both dentists have also completed additional training during their careers, allowing them to keep offering the latest techniques and technologies to their patients at Smiles LA.