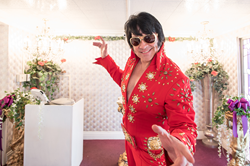 It is a rarity to have such a truly iconic Las Vegas landmark come to market.
LAS VEGAS (PRWEB) April 11, 2019
A Little White Wedding Chapel opened its doors – and its heart – in 1951, and its team of ministers has performed more than 1,000,000 marriages on this iconic site. Most famous for its Drive-Thru Tunnel of Vows, the chapel offers a full service Vegas wedding experience, from gown and tux rentals to a serenade from an Elvis impersonator (all bookable at the last minute online, naturally).
Few Las Vegas landmarks have been featured in as many pop cultural touchstones as the 'A Little White Wedding Chapel,' and the property's nostalgic pedigree is sure to have a multitude of buyers interested in owning a piece of Las Vegas history. The venue is currently being represented by Steven Khalilzadegan Broker of Savi Realty, and is up for an asking price of $12,000,000. The chapel is located on one acre of land directly on Las Vegas Blvd "The Strip" with 15,802SqFt of commercial space. The Strip is one of the most popular vacation destination in the world.
"Today there is land nearby on Las Vegas Blvd that is currently listed at $30,000,000 an acre. At list price with an established business and global name recognition I feel this is an amazing value." -Steven Khalilzadegn Broker Savi Realty
As the Queen Bee of Las Vegas weddings, Charolette Richards has owned and worked at the chapel since the 1951, and she herself has presided over some of the venue's most famous nuptials. These have included the vows of many giants of entertainment, including Frank Sinatra, Judy Garland, Mickey Rooney, Michael Jordan, and Britney Spears.
Legendary wedding ceremonies are A Little White Wedding Chapel's bread and butter, but they have also hosted many film and television productions. These have included WWE Raw, Supernatural, Friends and Good Morning America. More recently, Latin rap star Bad Bunny used the chapel to film the video for his song Si Estuviésemos Juntos, and it has already racked up more than 40 million views.
"It is a rarity to have such a truly iconic Las Vegas landmark come to market. Interested parties have already reached out to me directly from around the world on this unique listing." -Steven Khalilzadegn Broker Savi Realty
You can view more information on this Las Vegas landmark at http://www.TheChapelisForSale.com
Steven Khalilzadegan
Broker/Owner
Savi Realty
Steven(at)SaviRealty.com
702-810-6039