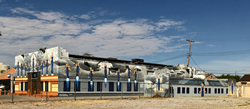 'A Phalanx of Angels Ascending' by native artist James Stanford is a dynamic art installation that celebrates the rich cultural heritage of Las Vegas while reflecting the city's vibrant art scene.
LAS VEGAS (PRWEB) September 08, 2019
Artist James Stanford created the monumental site-specific mural, A Phalanx of Angels Ascending, as a tribute to the iconic Blue Angel statue for the arts incubator, The 705, located on Las Vegas Boulevard.
The statue was designed by Betty Willis, who also created the famed 'Welcome to Fabulous Las Vegas' sign, and was inspired by a combination of actress Jean Harlow and the showgirls of the Stardust, Sands and Dunes. She stood in the area known as Five Points, the intersections of Charleston Boulevard, Eastern Avenue, Boulder Highway and Fremont Street in Downtown Las Vegas where she watched over locals and tourists alike, for 61 years.
Per Stanford, "I first saw the Blue Angel when I was 10 years old; 1958 was the year that The Blue Angel Motel was built. As a child, I lived only a short distance away from the Blue Angel Motel. Besides the obvious intrinsic beauty of the design work of the great Betty Willis, the history and personal memories surrounding the Blue Angel drew me to her. The Blue Angel stood as a sentinel over my end of town. At 16 feet tall, standing on a 10-foot-tall pedestal on top of the two-story building she dominated the single-story skyline. To many, she stood to watch over our daily activities, always smiling, always approving. She seemed so non-judgmental, blessing our mundane activities. If we got out of line, she could sprinkle us with unicorn dust from her magic wand. Depicting her ascending into the heavens seemed to be an appropriate homage to this inspiring icon of Las Vegas. I want the viewer to be inspired by the angels ascending into the heavens. I want them to feel like they could join in and take flight also. And, what is better than one Blue Angel? Many Blue Angels! From there, 'A Phalanx of Angels Ascending' was born."
Stanford's design reimagines the Blue Angel through a variety of cultural lenses, at times modern with jet rockets propelling the angelic figure towards the sky, at others more classical, explicitly referencing Botticelli's Birth of Venus. Stanford's keen design skillfully plays with the mid-century modern architecture of Blue Angel Motel, which was demolished in 2015, by incorporating key structural features from where the statue was once perched onto four exterior walls of The 705 building.
The installation was curated by Laura Henkel of ArtCulture PR. Per Henkel, "The Blue Angel was removed for restoration in 2017 and no one is certain when she will return to Five Points. For many decades, she served as unwavering muse amongst the most spectacular desert skies. Since she has been gone, there has been something missing in the ethos. People miss her. She represents so much to so many. 'A Phalanx of Angels Ascending' is a dynamic art installation that celebrates the rich cultural heritage of Las Vegas while reflecting the city's vibrant art scene. The installation provides an opportunity for people to see her again, remember her, appreciate her anew, take pictures of her and with her. The public response has been outstanding."
Notes to Editors:
 
James Stanford is an American artist with a multidisciplinary practice, including photography, digital illustration, painting and drawing. He has dedicated his life to creativity and the fine arts. Based in Las Vegas, he is widely known for his Shimmering Zen art series that is comprised of digitally reinvented mosaics and patterns based from his photographs of vintage neon signs of Las Vegas and the spiritual quality evoking the artist's strong connection to Zen Buddhism. He founded Smallworks Press, an independent publisher of art and culture books in 2006, and has since collaborated with a wide-spectrum of artists, authors and talent to create works and beautiful chromatic illustrations and stimulating interpretation with the finest print quality.