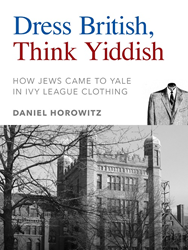 The promise of Yale was that it would 'turn the likes of us into the likes of them,' not in terms of dress but of opportunity.
Santa Monica, CA (PRWEB) March 23, 2015
From the 1920s to the 1960s, Jewish clothiers supplied the accouterments of success—the Ivy League style—at American universities, but especially at Yale, one of the oldest and most traditional. At the same time Yale admitted few Jews as students. And then a funny thing happened: as the penchant for repp ties and natural-shoulder suits declined at Yale, the influx of Jews—and other minorities—increased.
"The promise of Yale was that it would 'turn the likes of us into the likes of them,' not in terms of dress but of opportunity."
The story of how this came about is related by someone who was on the scene at Yale in the 1950s, at the dawn of the school's changing attitudes toward diversity, campus culture, and success. Author Daniel Horowitz, Yale Class of 1960, later became an accomplished historian, but his personal history includes the Jewish penetration of Yale by means other than Jewish clothier button-down shirts.
Now and Then Reader, an e-book publisher, will release "Dress British, Think Yiddish" exclusively on Amazon Kindle.
Historian Daniel Horowitz, is Mary Huggins Gamble Foundation Chair and Professor of American Studies Emeritus at Smith College. He has written extensively on the history of consumer culture and social criticism in the twentieth-century United States, including the books The Morality of Spending (1985); Vance Packard and American Social Criticism (1994); Betty Friedan and the Making of the Feminine Mystique (1998); The Anxieties of Affluence (2004); and Consuming Pleasures: Intellectuals and Popular Culture in the Postwar World (2012). In May 2015 the University of Massachusetts Press will publish his On the Cusp: Yale College Class of 1960 and a World on the Verge of Change, from which this essay is drawn. Mr. Horowitz lives with his wife, the historian Helen Lefkowitz Horowitz, in Cambridge, Massachusetts.
This new digital title headlines a growing list of short nonfiction books published by Now and Then Reader, a publishing house co-founded by industry veteran Ivan R. Dee. Now and Then titles typically range from 5,000 to 25,000 words and focus on historical writings including original works, excerpts, and reprints. Now and Then offers free and paid content on its website http://www.nowandthenreader.com.
For a review copy of "Dress British, Think Yiddish," or to schedule an interview with Daniel Horowitz, please contact Matt Hundhammer at Matt.Hundhammer(at)nowandthenreader(dot)com or 801-438-8535.