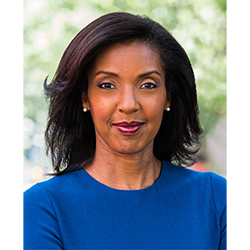 ATLANTA (PRWEB) May 26, 2023
The National Black MBA Association (NBMBAA) is thrilled to announce that Weldon H. Latham, Senior Principal at Jackson Lewis P.C., and Erika H. James, Ph.D., Dean of The Wharton School, have been named Honorary Co-Chairs for the NBMBAA's Annual Conference and Career Exposition September 12 - 16th in PHILADELPHIA, PA
As esteemed leaders in their respective fields, Latham and James bring a wealth of knowledge, expertise, and dedication to the advancement of Black business professionals. Their appointment as Honorary Co-Chairs highlights the NBMBAA's commitment to empowering its members and fostering meaningful connections within the business community.
"We are thrilled to have Weldon H. Latham and Erika H. James as our Honorary Co-Chairs for this year's conference," said Shawn Graham, interim CEO of the NBMBAA. "Their outstanding achievements and unwavering commitment to diversity and excellence align perfectly with the values and mission of our organization. We are confident that their leadership will inspire and guide our members towards greater success."
Latham, with his extensive experience as a Senior Principal at Jackson Lewis P.C., brings a deep understanding of corporate law and its impact on the business landscape. His expertise in diversity, equity, and inclusion initiatives will play a crucial role in shaping the conference's agenda and driving positive change within the industry.
James, as the Dean of The Wharton School, brings a wealth of knowledge in business education and leadership development. With her strong background in academia and her dedication to fostering inclusive business environments, she will provide valuable insights and guidance to conference attendees.
The NBMBAA's Annual Conference and Career Expo is a premier event that brings together Black MBA professionals, students, corporations, and organizations from across the country. This year's conference theme, "FORWARD - Empowering the Future to Innovate, Ignite, and Inspire," reflects the organization's commitment to advancing Black professionals and driving positive change in the business world.
Attendees can look forward to engaging keynote speeches, informative workshops, valuable networking opportunities, and a career expo designed to connect talented individuals with top companies. The conference aims to empower participants to unlock their full potential and make significant contributions to their respective fields.
"We invite all Black business professionals, students, and industry leaders to join us at the Annual Conference and Career Expo," added Graham. "With the guidance of Weldon H. Latham and Erika H. James, we are confident that this year's event will be transformative, empowering attendees to take their careers and businesses to new heights."
The conference is open to everyone, regardless of educational background. For more information and to register for this year's event, please visit https://nbmbaaconference.org/. For interview requests or further information about the conference, please visit https://nbmbaa.org.