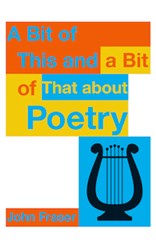 [Fraser] goes spelunking into the strange spaces that open up in George Herbert's great 17th-century "Church Monuments" as syntax, rhymes, and stanzaic divisions draw apart while you voice it from memory behind closed eyelids.
Halifax, Nova Scotia (PRWEB) December 05, 2013
A Big Theorist takes issue with another Big Theorist's disagreement with a Mere Critic's comments on a Medium-Prestige Poet's poem about the impossibility of communication. It's lab time, with the blackboard covered with symbols and arrows.
But who is doing the examining here? Trained scientists? ("No subjectivity, please.") Androids? ("What is that moisture on your cheek?") Coroners probing forensically for the illusions and ironies that they know must be in there? What are the selves examining or using these things called poems?
Fraser writes approvingly about poets, such as Yeats, who use multiple "languages," rather than locking themselves into a narrow range of styles. But what about readers? Are they themselves always doing one kind of thing?
Not in 'A Bit of This and a Bit of That,' certainly.
Here, reading can be a scrupulous tracing of stylistic changes by which poetry ca.1880-1920 had muscle and realworld grounding restored to it.
Or it's a time-trip back into the poetry that mattered most for Fraser in childhood, particularly the forty lines of proto-symbolist blank verse about Arthur's last dark battle in Tennyson's 'Idylls of the King' that he memorized in 1939 at age ten for the annual recitation contest at his North London day-school, cycling home that summer evening with a gleaming cup in his saddle-bag and his mind stored with linguistic riches.
Or he sets to and tries to figure out for himself what grips him in a dozen of his favorite poems, talking his way forward, and dealing with problems coming up along the way. (Can a computer write a poem? What was on the walls of that Belgian tavern in 1870?)
And he goes spelunking into the strange spaces that open up in George Herbert's great 17th-century "Church Monuments" as syntax, rhymes, and stanzaic divisions draw apart while you voice it from memory behind closed eyelids.
He has three modest goes at theory too (symbolism, "inspiration," genius, etc) in his own jargon-free fashion, and not wholly as a newcomer, having, as a second-year Ph.D. student, done the article on 20th-century American and British Poetics for the original Princeton 'Encyclopedia of Poetry and Poetics.'
And finally, what about all the leftovers? So he creates a lively closing medley of observations and quotations about a variety of topics, including Greek and the Book of Nature, thrillers as paradigms, pop lyrics ("The sigh of midnight trains in empty stations"), and the Demon Weed.
Fraser, whose verse translations from the French will be appearing in his third eBook, reads metered verse as an ongoing expressive voicing in which one can no more separate out the shifts in feeling than one can talk about the "real" structure of a lobster after throwing away the flesh.
He is all the time looking for the kinds of linguistic energy and realworld substance that are on display in his major online anthology 'A New Book of Verse.' And his resistance to arid abstractions does not involve any recourse to the fabulous synthesizing powers of Metaphor, Image, and Symbol, Inc.
About John Fraser
Fraser was born in North London in 1928. A grammar-school boy, he has degrees from Oxford (Balliol) and the University of Minnesota, where his minor in Philosophy included classes from Wilfred Sellars and Alan Donagan.
His three print books were published by Cambridge University Press. Among the journals in which his articles appeared are the Partisan Review, the Southern Review, the Yale Review, and Art International. In 1990 he gave the Alexander Lectures at the University of Toronto.
Since his retirement after thirty years from Dalhousie University, he has developed, with Rob Stevenson as webmaster, a large website containing the equivalent of several more books, including 'A New Book of Verse.'
http://www.jottings.ca/john/voices/newbk_contents.html
His first eBook is 'Nihilism, Modernism, and Value' (2013).
A reviewer of Fraser's 'Violence in the Arts' (1974) found in it "an extremely agile and incessantly active mind that illuminates almost every subject that it touches."
Fraser was married to the artist Carol Hoorn Fraser (1930-1991), who is featured on his website. He lives in Halifax, Nova Scotia.
About eBookIt.com
Since 2010, eBookIt.com (based in Sudbury, Massachusetts) has helped thousands of authors and publishers get their books converted to ebook format, and distributed to all the major ebook retailers, including Amazon.com, Barnesandnoble.com, Apple iBookstore, Kobo, Sony Readerstore, Ingram Digital, and Google eBookstore.