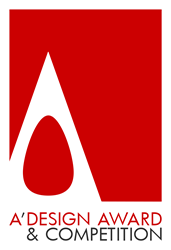 Fame, prestige, recognition and publicity awaits the best projects, innovative products and good designs.
Como, Italy (PRWEB) January 16, 2014
There are only a few days left to submit designs to the A' Design Awards' 2013-2014 Competition. Participants are expected to complete their entries by February, 28 2014. To enter their innovative design products in the A' Design Awards, entrants must first pass the free preliminary evaluations before nominating their designs and products. A' Design Competition is open to manufacturers, designers and producers of innovative design products worldwide, and the next edition (2014-2015) deadline is on February, 28 2015.
The A' Design Award is an international juried design competition, entries are judged by an expert 50 person jury panel. A' Design Awards' 2012 edition had winners from 70 countries, and the accolades attracted more than three millions of visitors. A' Design Award and Competition winners are ranked in the Designer Rankings and are included in the World Design Index. This will be the fourth time that the design accolades would be presented, and the competition is evolving in scope and size each year.
A' Design Award & Competition accepts design entries in almost all creative categories such as industrial design, graphics, packaging, architecture and interior design. For almost all design categories, concept designs and futuristic projects could be submitted in addition to realized products and projects. A' Design Award winners will be able to use the "A' Design Award Winner Logo" to promote and highlight their award winning products.
Every year, the competition features a design exhibition and a gala-night in Italy where hundreds of designer join for networking with companies and press members. Each winner is given the hardcover edition of the A' Design Awards' best designs yearbook in which their award winning works are published. The design award annual is prepared by Designer Press and the books are distributed free to all winners in addition to prominent media members.
Entries to the A' Design Awards are accepted in over a hundred design disciplines. The complete list of the design award categories could be found at http://www.adesignaward.com/categories.php and the following design categories are especially popular and competitive:
Popular Design Award Categories: Interior Space and Exhibition Designs, Furniture, Decorative Items and Homeware Designs, Packaging Designs, Graphics and Visual Communication Projects, Architectural Projects, Building and Structure Designs, Digital and Electronic Product Design, Jewelry, Eyewear and Watch Design, Lighting Products and Lighting Projects Designs, Bathroom Furniture and Sanitary Ware Designs, Domestic Appliances, Bakeware, Tableware, Drinkware and Cookware Designs, Toy, Games and Hobby Product Designs, Building Materials and Construction Component Designs, Scientific Instruments, Medical Devices and Research Equipment Designs, Automobile Designs, Vehicle and Transportation Designs, Interface and Interaction Designs, Street Furniture Designs, Yacht and Marine Vessels Designs
Previous award recipients could be seen at the Design Mag at designmag.org and entries to the International Juried A' Design Award & Competition could be made online through the A' Design Awards website at http://www.adesignaward.com, awarded entries will be provided a complimentary PR campaign by DesignPRWire to celebrate winning the accolades. All interested parties are invited to check the design award presentation at designaward.com and press members are especially invited to download the award winners' press kits, interviews and high-resolution images at the http://www.press-kit.org.