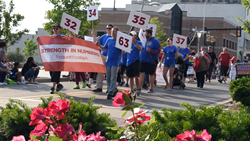 A Forever Recovery has a history of community outreach efforts.
Battle Creek, Michigan (PRWEB) June 26, 2016
On June 10-11, 2016, A Forever Recovery, a holistic treatment center for substance abuse, joined as sponsor of the 2016 Cereal Festival and World's Longest Breakfast Table in Battle Creek, MI, where the rehabilitation facility is located. This annual celebration is held in honor of the city's history as home to some of the world's leading providers of cereal and other breakfast foods. Its residents often refer to Battle Creek as "Cereal City" due to the fact that Post Cereals was founded there in 1895, followed by Kellogg's, originally called the Battle Creek Toasted Corn Flake Company, in 1906. Post Foods still maintains a plant in Battle Creek, and the Kellogg Company's headquarters are still located within the city.
"Community outreach has always been a priority for us," commented A Forever Recovery founder Per Wickstrom. "Strong communities are our nation's best defense against substance abuse. Our participation in one of our hometown's favorite traditions helped to bring happiness to thousands of residents and out-of-town visitors, and showed our patients that it is possible to enjoy life without using drugs or alcohol. We were honored to have a place serving our city's families at the World's Longest Breakfast Table."
The Battle Creek Cereal Festival
The Cereal Festival kick-off on the evening of Friday, June 10, with a parade making its way through Downtown Battle Creek. Patients and staff from AFR were part of the procession, marching behind a banner that read "Strength In Numbers" with the hashtag #countthedays. They held signs with numbers on them, signifying the number of days they had each been clean and sober up to that point. "My number was 32 on Friday," said Sean M., one of the AFR patients in the parade. "I was very proud to hold that up. It made me feel really good, with all the people clapping for me. It was awesome."
On Saturday, June 11, the World's Longest Breakfast Table was held, and A Forever Recovery patients and staff were on hand to keep the milk and cereal flowing and to keep tables clean and ready for the masses of hungry cereal lovers. At the AFR sponsorship booth, a contest was held where visitors were invited to guess how many Fruit Loops were in a glass jar. Britanni Rose was the winner, guessing the exact amount of 1,111. Her prize was a gift basket loaded with health and fitness items. "The gift basket consisted of a FitBit, dumbbells, a yoga pad," says AFR patient volunteer Jennifer M., "just things to encourage people to get out and work on their fitness."
A Forever Recovery has a history of community outreach efforts. From fundraising for the American Cancer Society to supporting youth athletic camps, they are constantly looking for different ways to be a source of hope and inspiration, and to help make the world a better place for everyone.
Blog:
http://aforeverrecovery.com/blog/events/forever-recovery-2016-cereal-festival-worlds-longest-breakfast-table-2/
Video: