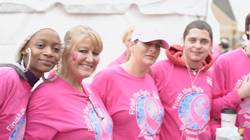 'I'm grateful to AFR for supporting the walk, and for allowing us to take part in it. It touched so many people's lives,' said Peggy, an AFR patient who had survived breast cancer.
Battle Creek, Michigan (PRWEB) November 30, 2015
On Saturday, October 24th, 2015, at the Mill Race Park in Downtown Battle Creek, MI, the American Cancer Society held an annual fundraising event, a 5K walk known as "Making Strides Against Breast Cancer". Patients and staff members from A Forever Recovery, a holistic treatment center for substance abuse which is also located in Battle Creek, joined in for this campaign that sought to raise donations that will go towards research on breast cancer treatment, survivor services, and support programs for breast cancer patients and their families.
"We encourage our patients to participate in many different community outreach events during their time at our treatment center," commented A Forever Recovery founder Per Wickstrom. "In recovery from addiction, learning the benefit of helping others goes a long way towards leaving behind the old, selfish ways of thinking, and discovering a new purpose in life and an appreciation for the world around us. We were honored to return in support of this year's event, and we look forward to joining next year's walk."
The American Cancer Society's "Making Strides Against Breast Cancer" fundraiser is a nationally coordinated event that sees over 1 million participants in nearly 300 communities across the United States. Volunteers help with registration, water stations, and providing information, and walkers start or joins teams teams or work individually to raise donations to go towards the cause of defeating breast cancer.
Making Strides Fundraiser
Of the A Forever Recovery patients that participated in the Battle Creek "Making Strides" fundraiser, two of them had a deeper personal connection to the cause. Peggy was diagnosed with breast cancer seven years ago. She was not the first woman in her family to be stricken with this disease, but she was the first to survive it. "I'm grateful to AFR for supporting the walk," she said in a video interview later, "and for allowing us to take part in it. It touched so many people's lives." Tiffany saw her mother go through the battle against breast cancer, which was difficult for her to watch, she explained, "because she's such a strong woman. I've never seen her defeated by anything, and I still haven't."
A Forever Recovery takes a unique approach to treatment for addiction. Their thorough program seeks to help their patients in making the complete lifestyle transformation that will allow them to find their path to a substance-free way of life. By participating in community outreach events, like the "Making Strides Against Breast Cancer" fundraiser, the patients at their recovery center are able to discover a new outlook on life and a greater appreciation for others.
To see the full video click here: https://www.youtube.com/watch?v=PZ7dceDP39w