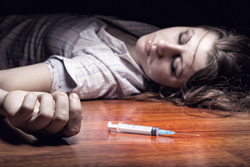 In fact, drug overdose deaths in the United States have increased fivefold since the year 1995, claiming the lives of about twenty to thirty-thousand Americans on an annual basis.
Battle Creek, MI (PRWEB) January 30, 2017
In recent news the drug and alcohol addiction rehabilitation center, A Forever Recovery, helped address the heroin epidemic in Southern Michigan by releasing a guide on heroin overdoses prevention. The rehab center works hard to rehabilitate drug and alcohol addicts daily, but the center also strives to work on prevention in Southern Michigan to stop other individuals from falling prey to addiction in the first place.
The guide written, published, and distributed by A Forever Recovery clearly and simply lists steps that a concerned family member or loved one of a heroin addict can take to ensure that an overdose will never happen. The guide even lists steps to take for those who are abusing heroin but who are considering stopping their substance abuse habits. Heroin overdose is a very real and very present threat in the state of Michigan, so the guide is helpful in these communities.
The guide goes over things like proper withdrawal techniques, how to quit using heroin, where to go to get help with quitting addiction, how to detect warning signs of an overdose, how to say no to heroin, etc. It is the hope at A Forever Recovery that heroin will no longer be a huge problem in Michigan as long as those currently addicted to it are able to come down off of it and not overdose on it.
Heroin addiction is a rising problem all across the nation, but overdoses because of heroin are a particular crisis in the state of Michigan. According to the Centers for Disease Control and Prevention (CDC) heroin-related overdose deaths increased by over two-hundred percent since 2002 nationwide, with certain states struggling more so than others. Michigan was one such state. As it stands and if nothing is done about the problem in Michigan, by the end of 2017 unintentional drug overdose deaths will become the leading cause of preventable deaths in the state, second only to things like smoking and obesity which also cause problems.
A Forever Recovery hopes to do something about this, and to extend its sphere of influence above and beyond just the hundreds of individual clients they are able to rehabilitate each and every year. The rehab center is known for making multiple contributions to the community on an annual basis, the most recent one of which being this overdose prevention guide.
To view this guide, please visit the A Forever Recovery website: aforeverrecovery.com.
Source: https://www.cdc.gov/drugoverdose/data/statedeaths.html