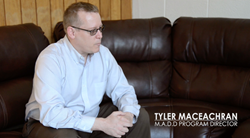 During Tyler's visit to AFR, he voiced that what had impressed him the most were the multiple options that the treatment program has to offer the patients there.
Manistee, Michigan (PRWEB) August 10, 2015
On May 1, 2015, A Forever Recovery, an open-ended holistic rehabilitation center for substance abuse located in Southwest Michigan, invited members of the local chapter of Mothers Against Drunk Driving (MADD) to tour the grounds and learn about the unique approach that they take to substance abuse treatment. Among those visitors that spent the day with A Forever Recovery Deputy Director Lewis Anderson was MADD Michigan Program Director Tyler Maceachran.
Mothers Against Drunk Driving is a nationally recognized organization that was formed in 1980 by a mother whose child had been killed in an alcohol-related car accident. Since it was founded, MADD has grown exponentially and has made great progress in raising awareness about the dangers of drinking and driving, fighting for tougher laws regarding this practice and making extensive efforts to making our roads and highways safer for everyone. The mission of MADD is "to end drunk driving, help fight drugged driving, support the victims of these violent crimes and prevent underage drinking."
MADD Raises Awareness on Devastation of Addiction
"We were honored to have representatives from a group like MADD come to our recovery center," commented A Forever Recovery's founder and CEO Per Wickstrom. "Their organization has done so much for our communities to raise awareness about the dangers of alcohol abuse. We hope that we are able to support them in their mission of fighting this terrible problem that we call addiction."
In an interview after the tour, Mr. Maceachran commented on some of the things that he observed during his visit to AFR. Among the things that he voiced that had impressed him the most wer the multiple options that the treatment program has to offer the patients there. "The ability to select not just the 'one-size-fits-all' modality," he stated, "it seems like, for someone that's kind of out of control in their lives, to be able to have that ability to self-select what treatment works best for them would be beneficial." Mr. Maceachran's interview can be viewed on the A Forever Recovery YouTube channel.
Readers can also see the full video here: https://www.youtube.com/watch?v=N4fZtI-VuqY