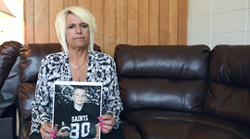 This group has worked so hard to make our communities safer and to raise awareness about the dangers of alcohol abuse. We look forward to supporting MADD in their role in fighting this terrible problem that we call addiction.
Battle Creek, Michigan (PRWEB) August 06, 2015
In showing solidarity with other organizations that stand firm in the fight against substance abuse, A Forever Recovery, an open-ended holistic treatment center for substance abuse, opened its doors to members of the Michigan chapter of Mothers Against Drunk Driving (MADD) for an informational grounds tour on May 1st, 2015. The MADD Michigan members spent the day with AFR Deputy Director Lewis Anderson, speaking with some of the patients at the rehabilitation facility and learning about the unique recovery program employed there.
Founded in 1980 by Candace Lightner following the loss of her daughter, Cari, at the fault of an impaired driver, Mothers Against Drunk Driving has become a nationally recognized organization, tirelessly working towards making our roads and highways safer by fighting for stricter laws against the dangerous and deadly practice of drunk and drugged driving. They also provide counseling and support services for those whose lives have been affected by the loss of a loved one due to the negligence of impaired drivers. The mission statement of Mothers Against Drunk Driving is "to end drunk driving, help fight drugged driving, support the victims of these violent crimes and prevent underage drinking."
MADD Tours A Forever Recovery
Among the attendees was MADD Affiliate Marsha Heimbach, a woman who, much like the founder of Mothers Against Drunk Driving, lost her child, Trevor, in an alcohol-related car accident two years ago. Marsha has been working with MADD since then, and saw a lot of promise and healing in the time she spent visiting A Forever Recovery. One of the things that impressed her most about the rehabilitation center was the thoroughness of the treatment program. "This is absolutely incredible, the way they cover every avenue," she commented in an interview after the tour, "and as an individual, not following a pre-set script. For me, seeing a place like this, knowing that people are taking the steps to get help so they don't hurt other people is awesome." A video of Marsha's interview is available on the A Forever Recovery YouTube Channel.
"It was a privilege to have members of an organization like MADD come and visit our treatment center," commented A Forever Recovery's founder and CEO Per Wickstrom. "This group has worked so hard to make our communities safer and to raise awareness about the dangers of alcohol abuse. We look forward to supporting MADD in their role in fighting this terrible problem that we call addiction."
The video outlining this tour was just released. To see the full video go here: https://www.youtube.com/watch?v=OrNb0n1ya_g