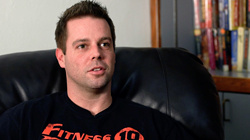 You're not really going out for the bar scene or the club scene anymore. You're dependent on it.
Battle Creek, Michigan (PRWEB) April 19, 2016
For those who may be struggling with alcoholism, or who might know someone that is, A Forever Recovery, a holistic treatment center for addiction located in Southwest has produced an informative video on recognizing potential indicators of alcohol abuse. The video, along with a corresponding blog entry on their website, are intended to promote education on the dangers of substance abuse, and to inform people about the treatment options available to them today.
With interviews from two patients at A Forever Recovery that came to the treatment center specifically for help with their alcohol abuse, as well as professional testimony from Joe Guajardo, a facilitator and the Lead Case Manager at the treatment center, the video focuses on the progression of alcoholism and how to approach someone who may be falling victim to it.
"Because alcohol consumption is so widely accepted in our society, it can sometimes be difficult to determine if someone is developing a drinking problem, even for someone who are very close to the individual," commented A Forever Recovery founder Per Wickstrom. "This video seeks to help people understand what they need to look for, and how to handle it if they are concerned about a loved one's drinking, or even about their own. Alcoholism can be dangerous and even deadly for many people, not just the person who has the addiction. We hope that, through opening someone's eyes to the potential for alcohol abuse, this video can help to save a few lives."
Erik L. and Jason B. are the two patients that wanted to share their stories so that others who
might be going through the same thing, or may be watching someone that they care about
struggle with alcohol abuse, might find hope in the possibility of recovering from their
addiction. They gave a first-person perspective on how their drinking problems had affected
their personal relationships, their professional lives, and their health.
"You want to drink at home, alone, by yourself," Jason observes. "You're not really going out for
the bar scene or the club scene anymore. You're dependent on it." This can progress even
further, to isolation, or the point where the individual doesn't want to be around anybody, even
their closest friends and relatives, because it would mean having to face the issue. "They don't
seek out help," says Erik. "They run and hide from their problems."
In his dual roles at the rehabilitation facility, Guajardo has daily interaction with a large portion
of the patients. He describes some of the mental and physical aspects of alcohol abuse. "One
way you can tell is when the amount that they are drinking increases," he explains. "A severe
alcoholic will have withdrawal symptoms. If they stop using alcohol, they may have shakiness,
like hand tremors."
This video, which is available for viewing on the A Forever Recovery YouTube channel, also
discusses the delicate approach to addressing someone's drinking problem. Constant support
and reassurance are helpful, but care must be taken to avoid enabling a person to continue
their compulsive behaviors. The A Forever Recovery website has additional information on
identifying alcohol addiction.