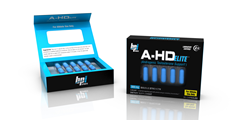 The upcoming release of A-HD ELITE™ represents a monumental addition to a product category that has been lacking in the industry.
Ft. Lauderdale, FL (PRWEB) March 25, 2014
BPI Sports, the fastest growing sports nutrition company, promised to bring its customers, fans and followers lots of buzz and excitement this year. They live up to their word with the launch of A-HD ELITE™, a revolutionary testosterone booster for a leaner, harder, stronger physique. The upcoming release of A-HD ELITE™ represents a monumental addition to a product category that has been lacking in the industry.
"Retailers and consumers across the world have come to know A-HD as a best-in-class product in the test booster category," said National Sales Director, Christopher MacKenzie. "The product re-launch, under the 'A-HD Elite' name, capitalizes on years of successful branding and brings even greater interest to an already established product. This was by far the biggest test booster on the market for several years. The remake has brought a tremendous amount of anticipation both inside and outside of these walls."
This ELITE version picks up where the current model leaves off. It is an extremely powerful TEST support mechanism featuring several researched ingredients indicating potent sexual activity. A-HD ELITE™ - This Potent, Double Strength, Novel Testosterone Support Agent along with the proper diet and exercise program is designed to promote the hardest, leanest, carved up physique.
A-HD ELITE™ works by supporting healthy testosterone levels while minimizing estrogens. Its anti-estrogenic/anti-aromatizing characteristics make A-HD ELITE™ the most significant compounded TEST formula that we have ever produced.
A-HD ELITE™ will be available for purchase in April 2014 at the nations #1 retail giant GNC, online super store Bodybuilding.com, and thru the leading nutritional distributor Europa Sports Products. With the help of BPI's strong partners at GNC, especially Brian Cavanaugh, Senior Vice President, Merchandising and Tom Dowd, Executive Vice President, Chief Merchandising Officer & General Manager, they are able to launch an exclusive A-HD ELITE™/SLICED™ KIT available only at GNC. This KIT will offer consumers the added bonus of a second uniquely designed hardening agent. This signature presentation is expected to soon be the #1 Best Selling Kit in GNC.
The release of A-HD ELITE™ has BPI starting the year strong. As they move into the next quarter of 2014, BPI plans to continue the success and momentum. BPI Sports is an industry leader in sports nutrition other popular products including 1MR VORTEX™ Pre-Workout Phenomenon, Whey-HD™ Ultra Premium Whey Protein Powder, B4™ Once-Daily Fat Burner, and BEST BCAA™ Branched Chain Aminos.
About BPI SPORTS
Headquartered in Hollywood, FL, BPI is the fastest growing Sports Nutrition company, both domestic and abroad, with products in popular categories such as weight loss, muscle building and athletic performance. For more information on BPI SPORTS please visit BPISports.net or on Facebook at Facebook.com/BPIonline.