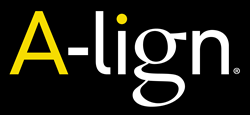 Tampa, FL (PRWEB) January 08, 2015
A-lign, a nationwide security, assurance and compliance solutions firm, reflects back at 2014 and the changes that occurred throughout the year. From increased focus on training to updating their methodology, these changes have led to one of the most successful years for the company.
"2014 was a breakout year for us," states Managing Partner Scott Price. "We expanded, updated and improved just about every part of A-lign. I'm very proud of where we are positioned and excited for an even better 2015." This year the company focused on increasing its training of all employees. The entire company was brought together in Atlanta, GA this past May for three days of training in preparation for the busy season. During the training, A-lign also held a reception for clients in the area to interact with them and also to help strengthen the company/client relationship. A-lign held firm wide training again in December where the focus continued to be on how they can improve their client experience and add value to each project. The use of technology in 2015 will allow more frequent training while still possessing collaboration with the entire firm.
To meet the client growth A-lign experienced in 2014, additional resources joined the team. The company hired over 10 new employees, one of which is a full-time recruiter dedicated to identifying talented and experienced people. As the 2014 expansion took A-lign international, two bilingual auditors were added as well. A-lign developed relationships with several college campuses in an effort to recruit the best and the brightest graduates to join in the firm.
Other significant events in 2014 include an office expansion with a move into a much larger space in the heart of downtown Tampa. A-lign made technology upgrades with a switch over to the Microsoft Surface Pro 3 tablets and moving all audit workpapers into the cloud with the release of the A-lign Vault Application which is a central portal for both clients and auditors. A-lign experienced tremendous client growth in 2014 which stemmed from upgraded marketing efforts, including the attendance of multiple conferences throughout the year.
A-lign updated their audit methodology due to the significant changes to the audit standards. 2014 saw a new version of SOC 2 Trust Services Principles and Criteria, PCI DSS moving to version 3.0, the adoption of NIST 800-53 revision 4 and the implementation date for ISO 27001:2013. A-lign revised their policies and procedures for these services to meet the requirements of these new standards.
All of these changes were put in place to provide a superior level of service to their clients and continually improve their internal processes. In the end, all of these efforts help A-lign to be viewed by their clients as more than just auditors—they are their trusted business advisor. 2014 has left A-lign better equipped to serve their clients and prepared for even more growth and continued success as they move into 2015.