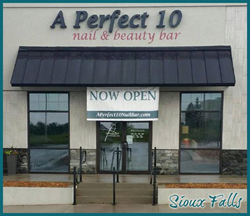 The store is all about pampering and excellent service.
Sioux Falls, SD (PRWEB) June 05, 2014
A Perfect 10 Nail and Beauty Bar is proud to announce the opening of its new location on 69th and Western in Sioux Falls. The company operates three successful nail and beauty bars in Rapid City and opened the new location in Sioux Falls due to demand from local customers who were traveling to Rapid City for treatments. A Perfect 10 offers a "blow dry" bar, manicure specializing in gel polish and pedicure services.
Featured on KDLT's local news program, "Life with Laura," A Perfect 10 Nail and Beauty Bar brings big city service and luxury to Sioux Falls. Women can come in and experience the blow dry bar and get a shampoo and blow dry style for a fraction of the cost and time required to get a full cut and color. The store is all about pampering and excellent service. Customers may even sip on wine or enjoy a cold beer as they are being attended to.
Blow Dry bars are popular in the big cities including Los Angeles, New York, and Las Vegas and the owner of A Perfect 10 has been operating three successful locations in Rapid City. They had so many customers coming in from Sioux Falls that they decided to open a location there. The new store at Remington Pointe in Sioux Falls officially opened on May 31, and is experiencing much interest as people line up for appointments.
The salon "blow out" style offered at A Perfect 10 Nail and Beauty Bar in Sioux Falls is something that normally would cost women up to $150. Now, at the new blow dry bar the price of a blowout, as they call it is $35, and takes roughly 45 minutes. This allows customers to have their hair styled for special occasions without the usual exorbitant expense and allocation of time.
A Perfect 10 Nail and Beauty Bar in Sioux Falls specializes in gel polish and natural nails and does not do acrylic nails, so customers are not subjected to the toxic smell present in many nail salons. Store Owner, Canada Lytle opened her first store in Rapid City three years ago, the second location two years ago, and the third last September. Due to requests from Sioux Falls residents, the new location at Remington Pointe opened May 31st. "People from Sioux Falls were traveling to our stores in Rapid City all the time and they just begged us to come, so we were finally ready to make that adventure," said owner Lytle. A Perfect 10 recommends that customers get an appointment, but walk-ins are also welcome based on availability.
A Perfect 10 Nail and Beauty Bar
(605) 791-2600
2312 W 69th St #140
Sioux Falls, SD 57108