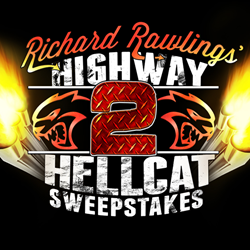 "With all that we've put into this contest and as hard as everyone involved has worked to make this happen, waiting to find out who the winner will be is probably more exciting for us than it is for them!" - James & Sherry Green, Owners of A#1 Air
Dallas, TX (PRWEB) May 12, 2015
The Hellcat is the grand prize in the Richard Rawlings Highway 2 Hellcat Sweepstakes, from A#1 Air. The Grand Prize Giveaway Event will take place on May 15, 2015, from 11 a.m. to 1 p.m. at Gas Monkey Bar n Grill.
The instant win game, that ended on April 30, 2015, consisted of many prizes that were up for grabs, including the Dodge Hellcat. The prize list also included new HVAC systems, Nest thermostats, tankless water heaters, home security systems, and various discounted services for HVAC, electric, plumbing, and security and fire.
There was no purchase necessary, but players did have to be in A#1 Air's service area of Dallas, Fort Worth in order to be eligible to win prizes. Players also had to be homeowners in order to be eligible as the entire game was created as a way for A#1 Air to give back to current customers and gain some new customers along the way.
The game consisted of 10 Hellcat Finalists spots. Anyone who registered a game account was automatically entered into a drawing to be the Wildcat Finalist. The Wildcat Finalist will join the 10 Hellcat Finalists, making 11 Finalists total who have a chance to win the Hellcat. The 2015 Dodge Challenger SRT Hellcat is currently the fastest muscle car on the planet, with 707 horsepower. One lucky winner will be identified this Friday, May 15, 2015.
The 11 Finalists and their guests at the event will enjoy lunch together, taking pictures, meeting Richard Rawlings, and some other fun activities and surprises from A#1 Air. A Meet n Greet Winner will also join the event.
You can see who these finalist are by visiting A#1 Air's Highway 2 Hellcat Finalists Be sure to follow A#1 Air on their social media channels to find out who the lucky Hellcat Winner is. As James and Sherry Green, owners of A#1 Air, point out, "With all that we've put into this contest and as hard as everyone involved has worked to make this happen, waiting to find out who the winner will be is probably more exciting for us than it is for them!"
###
A#1 Air, Inc. is a leading heating, ventilation, air conditioning (HVAC), plumbing, electric, and security company serving families and business owners in the Dallas, Fort Worth area for 25 years. A#1 Air, Inc. offers a full, 100 percent money back guarantee on all services and has won multiple awards and industry recognitions over the years. All technicians are drug screened, background checked, industry certified, and continuously trained and educated. A#1 Air, Inc. is comprised of A#1 Air, A#1 Air Electric, A#1 Air Plumbing, and A#1 Air Security. For more information about the finalists, please visit Highway 2 Hellcat Finalists, from A#1 Air