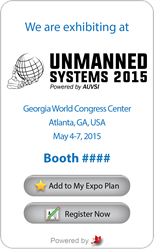 Columbia, MD (PRWEB) April 23, 2015
a2z, Inc., the Maryland-based event management solution company, is pleased to announce a new first for the trade show industry. The ChirpE Speaker Promotion Widget will provide registered speakers at this year's Unmanned Systems conference the opportunity to easily promote their speaking sessions before the show starts. They can embed this dynamic widget into their own website and blog, allowing visitors to view their speaking sessions, and register for the event. With this innovative solution, speakers are now able to advertise their speaking expertise in their own space, and capture the attention of their followers long before taking the stage at the conference.
The ChirpE eBooth Promotion Widget will provide exhibiting companies at Unmanned Systems 2015 the opportunity to increase attendee engagement before and during the show. The widget allows exhibitors to promote their eBooth on their own website, blog and e-newsletter providing attendees easy access to company information and the Unmanned Systems 2015 website. By utilizing the eBooth Promotion Widget, exhibitors can increase their event ROI and collect valuable pre-show leads. Attendees can add exhibitors as favorites and register for the event with a single click via the plug-and-play widget.
About Unmanned Systems 2015
Unmanned Systems 2015, which is organized by AUVSI, is a three-day conference and trade show designed for the global community of commercial and defense leaders in intelligent robotics, drones, and unmanned systems. This event brings over 8,000 industry leaders and professionals from every domain — air, ground, and maritime — together in a setting that fosters personal growth and professional development across multiple industries.
To learn more about Unmanned Systems 2015, please visit http://www.auvsishow.org.
About a2z
a2z, Inc. provides powerful web-based event management tools that grow your show by increasing and accelerating booth sales, helping boost revenue, and enhancing engagement and value for everyone. a2z, Inc. powers more than 850 leading events every year. Our clients benefit from increased connectivity with their audience via an improved website for their attendees and exhibitors and both web-based and native mobile app solutions. a2z offers three platforms as one integrated solution: Expo & Conference Management, Networking & Lead Management, and ChirpE Mobile- which includes our web-based and native mobile apps for smart phone and tablet device.