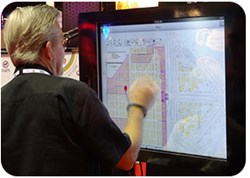 The ChirpE Mega Kiosk is a true game changer for the trade show industry.
Columbia, MD (PRWEB) December 06, 2013
a2z, Inc.'s latest offering to attract and engage attendees, the ChirpE Mega Kiosk will be featured in the New Product Showcase at Expo! Expo! in Houston, TX between December 10-12, 2013. The solution can also be experienced in a2z's booth 117 during the exhibits hours at this premier trade show industry event.
The ChirpE Mega Kiosk is the latest addition to a2z's popular suite of cutting-edge mobile and social media technology solutions for the exposition and conference industry. The solution provides event attendees instant access to search and planning tools on a supersized device mirroring all the rich features and functionality that is loved by millions of iPad fans across the globe.
The ChirpE Mega Kiosk syncs in real-time with the a2zShow-powered Event Website, ChirpE Mobile Event App Solution as well as ChirpE 365; thus delivering a seamless, 360-degree digital experience to exposition and conference attendees.
Along with providing a superlative experience to event participants, the solution will open up new avenues of revenue for show organizers by facilitating enhanced visibility to exhibiting companies as well as sponsors.
"The ChirpE Mega Kiosk is a true game changer for the trade show industry", said Rajiv Jain, the CEO of a2z. He added, "It's generations ahead of conventional onsite kiosks which typically support only one or two finger gestures and incorporate clunky software that utterly frustrates attendees. The ChirpE Mega Kiosk solution marries a2z's award-winning innovative software technology with a smart hardware interface that provides all the rich interactivity of an iPad, but at a much bigger scale that attendees will be thrilled to explore."
Visit a2z's booth 117 at Expo! Expo! to experience ChirpE Mega Kiosk in action. For more information, call (410) 740-9200 or contact sales(at)a2zinc(dot)net.
About a2z
a2z, Inc. provides powerful web-based event management tools that grow your show by increasing and accelerating booth sales, helping boost revenue, and enhancing engagement and value for everyone. a2z, Inc. powers more than 850 leading events every year. a2z's solutions are used by more events on the 2013 Trade Show Executive Gold 100 list than any other exposition and conference management software provider in the industry. Our clients benefit from increased connectivity with their audience via an improved website for their attendees and exhibitors and both web-based and native mobile app solutions. To fulfill our goal of developing quality solutions that help save money and meet your needs, a2z offers three platforms as one integrated solution: Expo & Conference Management, Networking & Lead Management, and ChirpE Mobile- which includes our web-based and native mobile apps for smartphone and tablet devices.