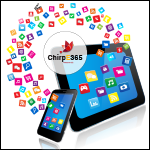 ChirpE 365 pushes the envelope by facilitating continuous conversation with audiences through an always-accessible mobile application.
Columbia, MD (PRWEB) November 26, 2013
a2z, Inc. announces the launch of ChirpE 365 - a native mobile app solution that will comprehensively extend the reach of business events by engaging audiences the year round.
ChirpE 365 is designed to facilitate the syndication of an event organizer's complete suite of content, including but not limited to blog articles, newsletters, press releases and white papers, to their community 24/7/365. Supported on mobile devices powered by iOS and Android, ChirpE 365 will also incorporate the brand's primary social media channels.
This new offering, built on a2z's powerful Mobile & Social Media platform, is a natural progression for the leading trade show technology solution provider. a2z has led the field from the beginning, having launched the ChirpE Mobile App for events back in 2008 when the mobile revolution was still in its heyday. ChirpE was awarded with the Trade Show Executive's Innovation Award in 2009. The ChirpE solutions are leveraged by organizers of many leading expos and conferences such as The International Association of Amusement Parks and Attractions, The National Automobile Dealers Associations, The Association for Packaging and Processing Technologies, and The Specialty Food Associations.
"The tremendous success of our ChirpE mobile apps for trade shows and conventions inspired us to create a completely one-of-its-kind mobile solution that goes above and beyond an event centric app by simplifying dissemination of content across multiple events," said Rajiv Jain, the CEO of a2z. "ChirpE 365 pushes the envelope by facilitating continuous conversation with audiences through an always-accessible mobile application."
ChirpE 365 will be showcased to attendees in a2z's Booth 117 at Expo! Expo! 2013 in Houston, Texas in December.
For more information, call (410) 740-9200 or contact sales(at)a2zinc(dot)net.
About a2z
a2z, Inc. provides powerful web-based event management tools that grow your show by increasing and accelerating booth sales, helping boost revenue, and enhancing engagement and value for everyone. a2z, Inc. powers more than 850 leading events every year. a2z's solutions are used by more events on the 2013 Trade Show Executive Gold 100 list than any other exposition and conference management software provider in the industry. Our clients benefit from increased connectivity with their audience via an improved website for their attendees and exhibitors and both web-based and native mobile app solutions. To fulfill our goal of developing quality solutions that help save money and meet your needs, a2z offers three platforms as one integrated solution: Expo & Conference Management, Networking & Lead Management, and ChirpE Mobile- which includes our web-based and native mobile apps for smartphone and tablet devices.