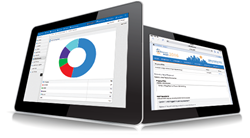 "We really enjoy the new design of the software. It is very user friendly and easy to navigate. Such a clean look." -Client Solutions Manager, IAVM
Columbia, MD (PRWEB) February 02, 2015
a2z, Inc. announces the release of a new version of its popular Conference Management & Marketing Solution. This release has been specifically designed to deliver a highly successful admin experience to the conference management teams and a great planning experience to attendees and speakers, across a wide range of devices (from desktop monitors to mobile phones and tablets with touch screens).
The latest release includes new end-to-end responsive features in the admin portal and event website including:
:: Dynamic dashboards & reports
Access to up-to-date information through nifty dashboards and on demand reports enables your team keep a steady finger on the pulse of your program.
:: Speaker self-service portal with promotion widget
Collect proposals, contact information and handouts from speakers through a streamlined self-service portal to bring significant efficiency to your processes. Reach untapped audiences via your speakers by enabling them easily access and embed a widget in their own websites.
:: Intuitive and streamlined workflows
Easy to access website features coupled with intuitive workflows make it easy for attendees and speakers to stay engaged with your event's brand throughout the event cycle.
:: Tablet and smart phone compatible admin portal
An end-to-end beautiful and responsive admin portal enables you to manage and report on multiple events from any device of your choice, including smartphones and tablets.
:: Multi-tiered sessions
Make the most of a system that provides full support for serving and managing sessions which have multiple sub-sessions.
:: Comprehensive search and planning features for attendees
A complete suite of features including powerful search options, tools to take notes, plan a personalized itinerary and download handouts, as well as the ability to respond to session surveys, Q&A and polls.
"This release is another noteworthy milestone in our endeavor to deliver powerful features on easy to use web sites that provide a consistent experience across multiple devices and screens." said Rajiv Jain, CEO of a2z, Inc. "We are delighted with the overwhelmingly positive response to a2zShow Version 14, launched in the last quarter of 2014. We will keep innovating at a steadily increasing rate and look forward to introducing many more exciting features for our users in 2015 and beyond."
To learn more and schedule a demo of these new features, click here and contact the a2z sales team.
About a2z
a2z provides powerful cloud-based event management and marketing tools to help grow an event's brand by accelerating booth sales, helping boost revenue, and enhancing engagement and value for event participants. a2z's web and mobile solutions are used by more than 850 leading trade shows and conferences across the globe every year.