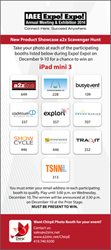 Columbia, MD (PRWEB) December 04, 2014
a2z, Inc. is pleased to announce that its mobile and social marketing solution, powered by ChirpE, will be leveraged by many leading organizations at Expo! Expo! 2014 to showcase new products and provide an interactive gaming experience to attendees.
Expo! Expo! IAEE's Annual Meeting & Exhibition will bring together thousands of professionals from the exhibitions and events industry in Los Angeles, California, on December 9-11, 2014.
Attendees at the event are invited to participate in the a2z Scavenger Hunt to explore cutting edge exhibitor products and services by visiting exhibitors featured in the Expo! Expo! New Product Showcase. All attendees who complete the challenge by sharing their ChirpE selfies from each of the pre-designated locations will be qualified to enter IAEE's Grand Prize Sweepstakes. In addition, two lucky participants will win one new Apple iPad mini 3 each in a random raffle.
The 2014 New Product Showcase participants are:

a2z - Booth 649
Streampoint - Booth 646
CadmiumCD - Booth 337
ShowCycle - Booth 446
Brentwood Plastics - Booth 228
Explori - Booth 357
TSNN - Booth 313
BusyEvent Mobile - Booth 109
TRAQ-IT - Booth 252
Participants' ChirpE selfies will be automatically posted to the respective brands' official channels on Facebook and Twitter using a2z's state-of-the-art ChirpE Photo Booth technology.
a2z will also award an iPad mini 3 to the attendee who gets the most Facebook likes for their photo clicked and shared from a2z's booth at the event. This contest will be open until midnight of December 23, 2014.
a2z is showcasing the fully adaptive and responsive features in the newly released version of a2zShow Exposition & Conference Management Platform, the leading event management solution in North America. The ChirpE Mobile & Social Media Platform is seamlessly integrated with a2zShow in real-time. Visit a2z's Booth 649 at Expo! Expo! 2014 to learn more about our award-winning solutions. Click here to contact an a2z team member with your questions or to schedule a demo.
About a2z, Inc.
a2z provides powerful cloud-based event management and marketing tools to help grow an event's brand by accelerating booth sales, helping boost revenue, and enhancing engagement and value for event participants. a2z's web and mobile solutions are used by more than 850 leading trade shows and conferences across the globe every year. Visit a2z's Booth 649 at Expo! Expo! 2014 to experience our solutions in person.