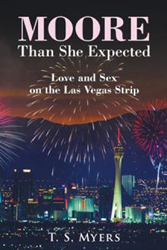 LAS VEGAS (PRWEB) March 28, 2019
Successful Vegas real estate agent Joan Bailey never intended to fall in love after her one night stand with billionaire Thomas Moore, but now, someone is out to violently shatter their happiness in her debut erotica, "Moore Than She Expected: Love and Sex on the Las Vegas Strip" (published by Archway Publishing). The novel is available for purchase at: https://www.amazon.com/Moore-Than-She-Expected-Vegas-ebook/dp/B07L3MVNTS.
Joan Bailey is a quick-witted, gorgeous, and successful real estate agent living in Las Vegas. Her busy work life leaves little space for romance, which suits her just fine. If she does ever find a free hour or two, she spends time with her friends, entertains clients, or enjoys the fun of the occasional one night stand. Too bad love often has its own plans.
One evening, Joan is working in the all-night diner she considers a makeshift office when a handsome stranger walks in. He is Thomas Moore, internationally known playboy turned businessman. The chemistry between them is immediate and impossible to ignore. Joan can't believe this famous guy wants her, and Thomas can't look away.
Their one night stand develops into real romance — and the sex keeps getting better and better. Lost in the haze of new love and lust, Joan never expects a dark figure from her past to reappear in the hopes of destroying her newfound happiness. There's danger in Sin City, and Thomas and Joan's chance meeting will change both their lives forever.
"Although it's basically just a boy meets girl story, deep down there are so many layers," Myers says, "it deals with love and sex and ultimately consent in a very adult way."
"Moore Than She Expected"
By T. S. Myers
Hardcover | 6 x 9 in | 268 pages | ISBN 9781480870147
Softcover | 6 x 9 in | 268 pages | ISBN 9781480870161
E-Book | 268 pages | ISBN 9781480870154
Available at Amazon and Barnes & Noble
About the Author
T. S. Myers was born a small-town girl in Walla Walla, Washington, and has spent most of her adult life in "Sin City," Las Vegas, Nevada. Over the years, she worked in a cannery, a frozen food plant, and the food service industry. She is now a real estate agent, riding the emotional and economic waves of her crazy career.