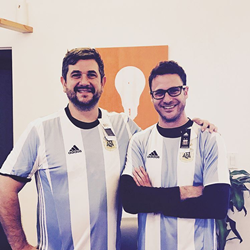 Over the past decade, we've helped hundreds of companies bring their digital products to life.
LOS ANGELES (PRWEB) June 24, 2021
July 24th, 2021, Dogtown Media celebrates its 10th year in business. Headquartered in Southern California, Dogtown Media has grown to build a dynamic global workforce spread across twelve time zones on three continents. The company's mission is to accelerate innovation and build sci-fi digital experiences to disrupt digital health, FinTech, robotics, and legacy industries alike.
"For the past ten years, our team of top-tier user-centric designers and full-stack software engineers have helped over 250 organizations bring their digital products to market." Said Co-founder and CEO Marc Fischer.
From growing VC-backed organizations to the Fortune 500; companies such as Google, Redbull, and Lexus have trusted Dogtown Media with the development of their future-thinking mobile applications. Today, Dogtown Media has built their reputation as a leader in the mobile health space, integrating with the 5 largest health providers and most impactful global pharmaceutical and medical device manufacturers in the United States. The digital health solutions that Dogtown has brought from inception to commercialization are actively used in clinics across the globe, saving thousands of lives per year.
Dogtown Media has received numerous accolades and awards including making the INC 5000 list for fastest-growing companies in America three years in a row. Every year since 2014 Dogtown Media has also been named a top mobile app developer on earth by Clutch Research. This emphasis on disruptive design has allowed Dogtown Media to help startups bring concepts to the market enabling organizations to go on and raise over one billion dollars in venture capital and create thousands of high-paying jobs across the country.
Outside of disruptive design, Dogtown Media has prioritized outreach and philanthropy, raising significant funds for charitable foundations, and promoting STEM education to thousands of students in the United States, Japan, and Latin America. Further, Dogtown Media has partnered with government institutions to formulate smart policy and accelerate the adoption of telehealth, remote patient monitoring, and digital health innovation within health systems across the nation.
Based in California, Dogtown Media is a mobile technology studio that leverages disruptive design strategies and dynamic development to deliver industry-leading apps. To date, Dogtown Media has created over 250 mobile apps in industries including Healthcare app development, IoT, and Artificial Intelligence.