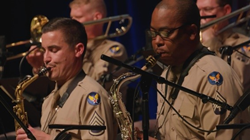 "It is an honor to be chosen to bring this program, and Major Miller's legacy, to such a large television audience." - Russ Hodge, Founder and President, 3 Roads Communications
FREDERICK, Md. (PRWEB) August 20, 2019
3 Roads Communications, Inc's new broadcast special, A Glenn Miller Swing Celebration, will debut November 1 on Public TV stations across America.
"His songs are unmistakable," states the promo for the upcoming special; an undoubtable truth as proven by the musical legacy of the Army Air Force's own Major Glenn Miller.
The program, shot in UHD, honors Major Miller on the 75th anniversary of his disappearance over the English Channel and features the USAF Band's Airmen of Note, Singing Sergeants, and Broadway dancers performing iconic classics such as "Moonlight Serenade," "At Last," "Chattanooga Choo Choo," "Boogie Woogie Bugle Boy," and "I'll Be Seeing You."
For the production and distribution of the special, the U.S. Air Force Band teamed with Emmy Award-winning 3 Roads Communications, Inc. of Frederick, MD.
"We are thrilled to have been selected to produce this special program," said Russ Hodge, Founder and President of 3 Roads. "It is an honor to be chosen to bring this program, and Major Miller's legacy, to such a large television audience."
The special will debut November 1 on Public TV stations across the country. Distribution of the program will be handled by NETA.
For more information on the program, including promo and press kit, please click here.
To preview the first five minutes of the program, click here.
About the USAF Band:
The United States Air Force Band is the Air Force's premier musical organization. The excellence demonstrated by the Band's Airmen musicians is a reflection of the excellence carried out 24 hours a day by Airmen stationed around the globe. Each member is proud to represent all Airmen, whose selfless service and sacrifices ensure the freedoms we enjoy as citizens of the United States of America. Since its formation in 1941, this world-class organization has inspired billions of listeners through its exhilarating music, engaging concerts and masterful recordings and continues to positively impact the global community.
About 3 Roads Communications:
3 Roads Communications, Inc. is an Emmy Award-winning company with a long, distinguished history of supplying top-notch programming to Public Television and Amazon. 3 Roads has created and produced hundreds of hours of award-winning programming for public television, including:

Legends of Airpower, TV series
Frontiers of Medicine, TV series
For The Love of Their Brother, 2016 Documentary
The Truth About Money with Ric Edelman, TV series
Rescue in the Philippines, Documentary
Ric Edelman's The Truth About Retirement, PBS Pledge Special
Ric Edelman's The Truth About Your Future, PBS Pledge Special
For more information, please visit 3roads.com
About NETA:
The National Educational Telecommunications Association is a professional association that serves public television licensees and educational entities in all 50 states, the U.S. Virgin Islands, and Puerto Rico. Since 1967, our reason for existing has been to connect public television people and ideas, by providing quality programming, educational resources, professional development, management support, and national representation.