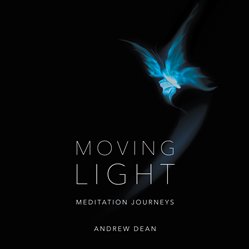 "I am drawn to the spiritual side of life, and the symbols used throughout the book are very meaningful to me. I hope that readers find the meditations to be profoundly moving and helpful."
MELBOURNE, Australia (PRWEB) September 09, 2019
"Moving Light: Meditation Journeys" by Dr. Andrew Dean is a series of ten guided meditations within a context of linking reflective chapters. The book is designed as a sequential experience starting from simpler meditations and moving through to more extended and challenging meditation imagery.
The inspiration for this work came out of a meditation group that developed in 2009, with members in UK and Australia. Through this group, Dean realized that he had the ability to write meditations for guided group or solo meditation practice. Some of these meditations were used by the group, and others have come about subsequently from the imagery or ideas that came to the author during meditation practice.
"I have grown into meditation slowly and am now certain that it has provided me with a steadying framework for my own life, as a doctor and as a person," said Dean. "I am drawn to the spiritual side of life, and the symbols used throughout the book are very meaningful to me. I hope that readers find the meditations to be profoundly moving and helpful."
Humor, tenderness, freshness and a profound underlying sense of care are present in "Moving Light," and readers are encouraged to examine their lives and use meditation to enable this process.
"Moving Light: Meditation Journeys"
By Andrew Dean
ISBN: 9781504309950 (softcover); 9781504310123 (eBook)
Available from Amazon, Barnes & Noble and Balboa Press
About the author
Dr. Andrew Dean has worked for 30 years as an emergency physician. He's passionate about developing his knowledge about spirituality and meditation. He works with healing every day, in the mainstream medical setting, and sees the need for the inner mind and body rebalancing that meditation can achieve.
###
Review Copies & Interview Requests:
LAVIDGE – Phoenix
480-998-2600 x 586
lstandridge(at)lavidge(dot)com