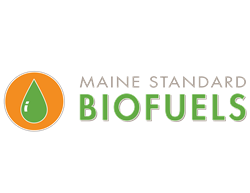 NEW YORK (PRWEB) April 10, 2019
Since launching in 2006, Maine Standard Biofuels has become a leader in the state's sustainability efforts, bolstered by a growing presence throughout New England.
Now, the company is setting its sights on an even larger national presence, beginning with the biggest stage of all: New York City.
On April 16, Maine Standard Biofuels—along with Portland brethren Allagash Brewing Company—will be part of an event hosted by Luke's Lobster at the company's Midtown East location.
According to Derek McIntosh, Maine Standard's vice president of sales and marketing, the event is designed to showcase the international lobster company's commitment to sustainability—and the strategic partnerships that make that effort possible.
"A few years ago, [Luke's Lobster co-founder] Ben Conniff reached out to us about creating a cooking oil recycling program for their Tenants Harbor restaurant," McIntosh says. "We've been working with them ever since. So, we see this as an extension of that relationship, and a tremendous opportunity to introduce our products and services to a whole new market."
While the company remains a leader in cooking oil conversion—where spent oil from restaurants and food manufacturing facilities is converted into biodiesel for use in diesel engines, furnaces and other energy applications—the event gives Maine Standard a chance to showcase its latest offering: a line of revolutionary green cleaning products, along with a glimpse into its new branding—courtesy of Trueline, another Portland-based company.
Created as a green alternative to synthetic chemicals and other oil-based products, Maine Standard's Wicked Strong and Solvitall lines use converted cooking oil to create industrial-strength cleaners—without the harsh chemicals.
"A lot of people don't know that these alternatives exist, so we see this as a real opportunity to put it on peoples' radar," McIntosh says. "We want people to see the link between our oil conversion side and the kinds of products that process can create."
It's a connection that Luke's Lobster is already embracing. For years, the company has used Maine Standard to convert oil from its Tenants Harbor location into biodiesel. With Luke's planning a new restaurant on Maine's historic Portland Pier wharf, the company has plans to coordinate with several of the fisherman's co-ops—who provide the restaurants' lobster—to use converted oil to fuel their lobster boats.
The next step: using Maine Standard's Wicked Strong and Solvitall products in the restaurants.
"We've always tried to use our business as a platform to promote great Maine businesses and the causes that are important to us, such as supporting coastal communities," says Margot De Boer, partnerships director for Luke's Lobster. "We're proud to work with Maine Standard Biofuels to raise more awareness about the things that business and individuals can do to preserve our natural resources and the health of our oceans."
The private media event will be held on Tuesday, April 16 at Luke's Lobster's Midtown East shack, located at 207 E. 43rd Street.
While enjoying Luke's famous lobster rolls and Allagash's award-winning Belgian-style beers, media and other influencers will have the opportunity to learn more about The Keeper Fund, Luke's Lobster's charitable initiative to keep coastal waterways clean and support economic development in fishing communities.
Attendees will also have a chance to meet companies such as Maine Standard Biofuels, the Island Institute, Atlantic Sea Farms and others that are central to Luke's Lobster's sustainable mission.
To generate awareness among Luke's fans, Luke's Lobster and Allagash Brewing have pledged to donate $1 from every sale of Allagash White at Luke's Lobster's shacks across the country to The Keeper Fund, up to $10,000 in 2019.
For more information about Maine Standard Biofuels and Wicked Strong, please visit http://www.mainestandardbiofuels.com and http://www.wickedstrongproducts.com
To learn more about Luke's Lobster, go to http://www.lukeslobster.com