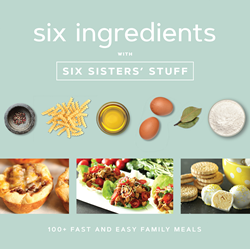 "Hits with the sisters' kids are marked with a red 'Kid Approved' stamp. For adults in a hurry, the shortcut-approach is a godsend. For expert cooks, the dishes are easy to elevate and adapt. Six Ingredient Meals is a colorful indulgence." -Foreword Reviews
SALT LAKE CITY (PRWEB) December 17, 2019
With over one hundred fast and easy meals including kid-approved recipes, Shadow Mountain Publishing's recently released cookbook is the perfect last minute Christmas Gift for your mother, wife or loved one. Besides the delicious and simple recipes the cook will find inside, this will truly be the gift that keeps on giving for cooking adults who always seems to be in a hurry.
Six Ingredients received a stellar review by Forward Reviews: "these recipes are a weeknight workhorse. The collection favors speed—a pleasant relief, and an honest hat-tip to how average people cook...Decadent, heart-stopping dishes...The six ingredient promise is catchy...Luscious close-ups of each completed dish offer a few garnishing ideas. Several ground beef, pasta, and Mexican-inspired dishes cater to kids who crave comforting familiarity. For expert cooks, the dishes are easy to elevate and adapt. Unpretentious and steeped in American supermarket staples, Six Ingredient Meals is a colorful indulgence."
Parents who have a difficult time finding meals that all of their kids will eat will keep this cookbook on the top of their pile. "Hits with the sisters' kids are marked with a red 'Kid Approved' stamp. For adults in a hurry, the shortcut-approach is a godsend," Forward Reviews also stated.
Six Sisters Stuff is a popular food and lifestyle blog with millions of monthly visitors who have been been featured on Oprah.com, Buzzfeed, HuffPo, Glamour, Today.com, Parenting.com, Taste of Home and The Hallmark Channel. They partner with leading brands in the food/lifestyle category including Bosch, General Mills, Truvia, Werthers, Bird's Eye, and Kroger.
Getting to know the sisters behind the recipes is just as delightful. They say, "there are six of us girls... no boys! Now that we have grown up and moved far apart from each other, we use this blog to stay in touch and share our ideas. Our recipes are family favorites that use ingredients commonly found in your pantry. Our crafts and home decor projects can be made with little or no money. We don't claim to be amazing chefs- we just know the importance of feeding your family a home-cooked meal and sitting down to eat it together."
From beginning cooks learning the basics to busy parents looking to save time in the kitchen, this cookbook is loaded with entrees, side dishes, and desserts. Whether it's a one-pot wings dish or a no-bake peanut butter bar this cookbook is a fool-proof solution to meal planning and features "Kid Favorites" recipes. With only six ingredients or less per recipe, making dinner has never been easier. Pick up their new cookbook today!
Shadow Mountain Publishing is a general trade publisher of fiction and non-fiction. They are the publisher of the New York Times bestselling series Fablehaven and the sequel series Dragonwatch by Brandon Mull. They're also known for our Proper Romance™ line of sweet romances. Other well-known titles include the New York Times bestselling history book 7 Tipping Points that Saved the World, the New York Times best-selling author Jason F. Wright's Christmas Jars—now a major motion picture, and the award-winning The Rent Collector by Camron Wright.