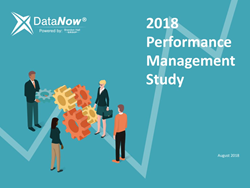 You can't wait a whole year to provide feedback for your employees but that is the process companies have followed for years, and it's not conducive to business performance
DELRAY BEACH, Fla. (PRWEB) August 16, 2018
A recent performance management study by Brandon Hall Group, a leading human capital management research and analyst firm, revealed that 69% of organizations either plan to eliminate formal performance appraisals altogether or supplement them with frequent performance conversations and coaching.
Of organizations making a change in performance management, 70% said it was because employees needed more feedback from managers and 48% said it was to better align performance management with overall business objectives.
However, this research uncovered a problem with this shift: 53% of organizations lack a formal program to train employees to become better managers and coaches, and 64% rate their current coaching and mentoring program as "not effective" or "somewhat effective."
"I think that the tipping point has been passed; most organizations are moving toward a continuous-conversation model, but that doesn't mean they are doing it well," said Cliff Stevenson, Principal Analyst for Talent Management at Brandon Hall Group. "Managers must become better coaches and mentors to see the benefits of this more personal, hands-on approach to performance management."
Another issue is promotion: In 59% of organizations, promotions are given only to employees who were selected by management in a process separate from performance management. Only 25% of organizations promoted employees based on identifying top performers through a performance-management process. Fifteen percent of organizations give promotions based on a specific methodology, such as the 9-box grid.
Other findings of the study include:

Team-based performance management exists in 26% of organizations; 65% of organizations with a team-based PM system report that it impacts individuals' PM appraisal.
Managerial feedback still accounts for the clear majority of formal assessments used in PM (68%) but 360° assessments (31%) and peer feedback (28%) are also used.
Nearly two-thirds of organizations (64%) use technology to support their PM efforts and another 19% plan to add technology in the near future but those numbers are even higher for organizations with PM aligned to their business objectives. Of those organizations, 77% are making use of technology for PM and another 14% will be adding it in the near future.
"You can't wait a whole year to provide feedback for your employees but that is the process companies have followed for years, and it's not conducive to business performance," said Mike Cooke, CEO at Brandon Hall Group. "Going just one degree off course for an entire year means you're going to end up in the wrong place. By constantly conducting short check-ins, you can immediately correct course."
Download a complimentary snapshot of the Performance Management Survey results http://go.brandonhall.com/DataNow_Snapshot_Performance_Management_PR_2018.
The study, conducted May-July 2018, drew 363 valid responses from 47 industries. 71% of responses came from the U.S. and Canada and 19% from EMEA nations.
***
About Brandon Hall Group Inc.
Brandon Hall Group is a HCM research and advisory services firm that provides insights around key performance areas, including Learning and Development, Talent Management, Leadership Development, Talent Acquisition and HR/Workforce Management.
With more than 10,000 clients globally and 25 years of delivering world-class research and advisory services, Brandon Hall Group is focused on developing research that drives performance in emerging and large organizations, and provides strategic insights for executives and practitioners responsible for growth and business results.
At the core of our offerings is a Membership Program that combines research, benchmarking and unlimited access to data and analysts. The Membership Program offers insights and best practices to enable executives and practitioners to make the right decisions about people, processes, and systems, coalesced with analyst advisory services which aim to put the research into action in a way that is practical and efficient. (http://www.brandonhall.com)
For additional information about our organization please contact Mike Cooke via mike.cooke(at)brandonhall(dot)com or via phone at (561) 306-3576.