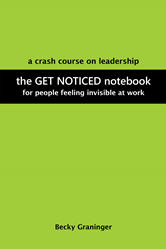 OKLAHOMA CITY (PRWEB) May 16, 2022
"the GET NOTICED notebook: A Crash Course on Leadership for people feeling invisible at work" takes a compelling outlook on what it takes to get noticed and be valued in one's work environment. This guide is written based on Graninger's personal experiences in her own career as well as management practices she has witnessed in other businesses. It is packed with real life scenarios, instead of theoretical concepts.
"This book is not for those who only believe in getting ahead," Graninger said. "It is written for the good guys who need some help."
'the GET NOTICED NOTEBOOK' is written with the working manager in mind, and it provides tips for readers to implement into the ever-changing flow of the business world.
Graninger shares leadership skills and proactive approaches to help readers evolve and succeed in their careers, with practical advice in a short and concise manner, accompanied by numerous examples applicable to one's own circumstance.
"The key to advancing the goals of the entire organization," Graninger said, "is to develop collaborative initiatives, while supporting leaders, peers and colleagues across the enterprise."
"the GET NOTICED notebook: A Crash Course on Leadership for people feeling invisible at work"
By Becky Graninger
ISBN: 9781665551465 (softcover); 9781665551458 (hardcover); 9781665551441 (electronic)
Available at AuthorHouse, Amazon and Barnes & Noble
About the author
Becky Graninger earned her bachelor's degree in economics from Hollins University, Roanoke, Va., as well as her master's in marketing from John Hopkins Carey Business School, Baltimore, Md. Graninger has worked and volunteered for several community nonprofits and organizations. She is the Chief Development and Marketing Officer at Feed the Children. Graninger currently resides in Oklahoma City, Okla. with her spouse and multiple rescue cats and dogs. To learn more, please visit the author's LinkedIn.
###
General Inquiries:
LAVIDGE – Phoenix
Ashley Baccaro
480-998-2600
abaccaro@lavidge.com