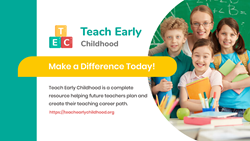 PHOENIX (PRWEB) March 04, 2019
Teach Early Childhood is a new teaching website geared toward providing prospective teachers the information and resources to plan their future career as an early childhood educator. Teachers are like the second guardians of children. They are responsible for shaping the early learning of the children that come under their care. This is an important task, made more so by ongoing research that suggests early learning forms the foundation of all future learning experiences. Having the correct training upfront is always the first step, including for teachers preparing to properly educate students in a classroom environment. The correct training and focus will allow students to become effective and successful teachers. This focus will help new teachers shape their career path. Teach Early Childhood is a source that provides details on what any future teaching career can look like and equips teachers for post-graduation.
Career guidance from Teach Early Childhood can be very important for a person wanting to be a teacher. Understanding the development of children and how they experience situations becomes crucial, especially when you are dealing with the very young, up to age eight. The first five years are especially important for physical, intellectual, and social-emotional development. This is the age when a young child's brain develops more than any other time in his or her life. Teach Early Childhood recognizes the importance of the early learning stages in life and how crucial it is for teachers to be prepared to properly educate these children. A representative from Teach Early Childhood commented, "Our goal is to help potential candidates choose the degree and career path that bests fits their needs and goals."
Part of the reason Teach Early Childhood is so important to potential teachers is that many states have different rules for teaching professionals. The different state education requirements can be found at https://teachearlychildhood.org/become-ece-preschool-teacher/. However, there are some generalizations to be made as to what level of schooling you'll likely need. There are three main degree path programs that future teachers can learn about from Teach Early Childhood. One of the most common degrees is the Associate's Degree. One thing that every aspiring teacher has to know is that they will be getting a degree in early childhood education. Each teacher will be creating the foundation for the students ongoing learning, and there is a lot of responsibility that comes with that. The Associate's Degree will help prepare a future teacher for tasks that he or she will have to do in a classroom, though usually only as a teacher's assistant. A teacher's assistant works with students directly but won't have the liberty to handle the kids as a teacher does. This degree is perfect for those who want to be involved with children, but don't want to become a full-time teacher.
The Bachelor's Degree is another that students can explore and learn more about from Teach Early Childhood. Every degree-course will have sessions where the teacher will be taught about how to handle children of all ages. The bachelor's degree is the most popular because it provides optimal training for teaching positions and it is also the stepping stone to getting a master's degree. Candidates who want to get a Bachelor's Degree will be prepared on how to teach children who are between the ages of 2 to 9 years. This is the period when children go to preschool and reach the third grade. It is a very crucial stage for any student. Teach Early Childhood provides students with various career paths, practical resources for before and after graduation, and can help teachers find a job in their local city.
The third and most important degree is the Master's Degree. This is the degree that will allow candidates to teach students at a higher level. The responsibilities of a teacher with a master's degree are far more than an associate or a bachelor's degree. Teach Early Childhood can help prospective master's degree candidates find the right on-campus or online college that suits their individual needs. Master's graduates are typically able to get better career placement offers, obtain promotions, or even secure a higher position in administration. Some career choices that are available to a master's graduate, depending on if there is specialized training are: preschool teacher, kindergarten teacher, elementary school teacher, special education teacher, or ESL teacher. Teach Early Childhood is the ideal stepping stone to not only find the best college or university, but also obtain resources to help students through the journey of becoming a teacher.
About Teach Early Childhood: The Teach Early Childhood team has always looked to provide the right information to potential students who have shown an interest in becoming a teacher. The proper guidance with a degree in early education and great teaching resources can help give teachers a platform that can be built upon for years to come.