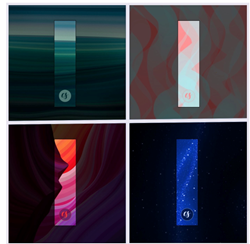 We are excited to share a product that can help soothe anxiety and fidgeting for both kids and adults.
NEWPORT NEWS, Va. (PRWEB) June 25, 2020
Calm Strips has just launched its new line of textured sensory adhesives. Calm Strips are made from a thin but extremely hardy and durable vinyl. These sensory adhesives were crafted to help soothe anxiety and fidgeting by grounding an individual in a calming scene and using a rough, but soft, surface as a stimulus.
Calm Strips were designed with adults and children in mind. They can be placed on laptops, phones, books-- the options for placement are unlimited. Calm Strips can be beneficial for students from grade school through college, to help with stressful meetings, and to ease general anxiety in the home environment. Each design is carefully selected from the works of eclectic artists, including painters, muralists, and cutting-edge digital artists.
Michael Malkin is the creator of Calm Strips. He initially would deal with anxiety by wrapping carpenter's tape around his finger, so he could touch something when he felt anxious. Over the years, he worked to develop Calm Strips to help others suffering from anxiety. It took over a year to find the right combination of a textured finish and reusable adhesive that would meet all of Malkin's goals for the product.
"We are excited to share a product that can help soothe anxiety and fidgeting for both kids and adults," said Michael Malkin, creator and founder of Calm Strips. "We have received tremendous feedback from individuals, teachers, and therapists that have all benefited from using Calm Strips or from sharing them with others."
Every Calm Strip embodies a calming scene in nature, including ones inspired by sunrises and sunsets on the water in the company's home state of Virginia and images that evoke the beauty of the night sky over the majestic Antelope Canyon in Arizona. Calm Strips feature a water-resistant, textured finish that is equal parts durable and satisfying to the touch. The materials are rated to stand up to the elements, including water and sanitizing, for up to 4 years.
This texture is called Soft Sand which allows for the resistance an individual would want without worrying about scuffing nails or scratching fingertips. This is paired with a high-quality adhesive that ensures they stay wherever they are attached. Calm Strips also leave little or no residue on almost any surface if they need to be relocated for reuse.
Calm Strips are available for purchase at http://www.calmstrips.com. A pack of Calm Strips includes 20 reusable strips and is priced at $14.99.
Follow Calm Strips
https://www.instagram.com/calmstrips/