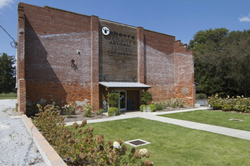 KNOXVILLE, Tenn. (PRWEB) April 26, 2019
The South has seen a rise in interest in local creameries and dairies in recent years, and buying locally grown food and learning more about the origin of food have produced more interest in farm tours. While diary farms have been popular, goat farms are climbing the ranks and becoming more prevalent with families, travelers and foodies.
The Tennessee River Valley Geotourism Mapguide invites invites visitors to explore dairy and cheese farms tucked into the region's rolling hills and valleys. These farms are open to the public and offer a chance to learn how milk is produced, learn how multi-generational farmers are perfecting the art of cheesemaking, see a farm in operation, taste farm-fresh treats, interact with farm animals and talk with experts in the farming industry.
Belle Chèvre, Elkmont, Ala.
Alabama-based creamery Belle Chevre has earned national attention for its French style goat's milk cheeses. Located in northern rural Alabama in Elkmont, this artisan cheese shop offers a tasting room serving handmade goat cheese and guided tours. Owner Tasia Malakasis is an internationally awarded cheesemaker, cookbook author and an Alabama native who returned to her roots after working as a top marketing executive in the high-tech world.
Prior to Malakasis acquiring the company, Belle Chevre was among some of the best creameries in the country. It had garnered the highest honors from the American Cheese Society and the American Dairy Goat Association. Today, the creamery has received more than 100 national awards and hundreds of honorable mentions.
Belle Chèvre's milk comes from a farm down the road, where the goats munch on grasses enriched by the fertile limestone soil that gives Elkmont's home county its name. Belle Chèvre is most noted for its Fromage Blanc, a fresh goat cheese that can be used as a spread on bagels or as an accompaniment to fresh vegetables and fruit.
Guided tours of the creamery to see the making of the award-winning cheese are available Fridays and Saturdays. Tours also include a peek into cheesemaking with in-depth explanation by one of its cheesemakers, Belle Chevre history, goat petting and visiting, tastings/samples and a nine minute documentary film.
Mountain Hollow Farm Store & Studio, Tazewell, Tenn.
Mountain Hollow Farm is a cashmere goat farm located on the historic Vancel Mill property about an hour north of Knoxville. At this working farm, guests can visit with the cashmere goats, as well as Shetland sheep.
Each spring, the goats prized for their delicate undercoat get brushed until the finest fiber comes out. According to Mountain Hollow Farm, cashmere is not a breed of goat; it is a type of goat. Cashmere is the soft down of the goat that grows beneath the guard hair. There is not one "look" for cashmere goats. They come in a variety of colors, hair lengths and horn shapes.
The farm rests on the site of the historic Vancel Mill property. Although the mill is gone, a circa 1931 general store has been restored for use as a store and studio. After spending time with the animals, stop by the country store which features yarn, fine handcrafts, loose leaf tea, Raven's Brew coffee, gourmet food mixes and goat's milk soap. The farm is also particularly popular with those who knit and crochet. A variety of knitting, crochet and spinning classes are offered year round.
Sweetwater Valley Farm, Philadelphia, Tenn.
Located in the heart of southeast Tennessee's dairy-rich Sweetwater Valley, Sweetwater Valley Farm is one of a few farms in the country producing fine farmstead cheese. As a farmstead cheese producer, Sweetwater Valley Farm controls the entire process from cow to consumer starting with what is grown at the farm to feed the cows and then later down the road using their milk to produce the cheese.
Sweetwater Valley Farm makes a wide variety of cheddar-based cheeses as well as Gouda, and visitors can stop by the farm store to sample over 30 flavors of cheese. Cheese is typically made January through the summer either two or three times a week. Limited quantities of fresh cheese curds are available for purchase when cheese is made.
Mayfield Dairy Farms, Athens, Tenn.
One of the nation's leading dairies, Mayfield Dairy Farms has been in operation for over 100 years. A visit to the Mayfield Visitors Center in Athens, located between Knoxville and Chattanooga on I-75, explains the process of how Mayfield makes milk and ice cream.
The free, behind-the-scenes tour of this dairy plant shows how dairy farming has changed over time. The tour begins with an overview of the history of the farm and how it evolved into a modern dairy production plant. Tours are offered Monday through Friday 10 a.m. to 4 p.m. (except Wednesday) and Saturday 10 a.m. to 1 p.m.
After the tour, visitors can stop by the ice cream parlor and purchase a cup or cone of favorite Mayfield flavor, or pick up a souvenir in the gift shop.
For more information or to discover additional things to see and experience in the Tennessee River Valley, visit http://www.exploreTRV.com.