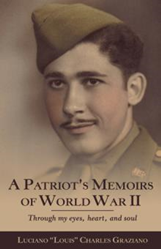 THOMSON, Ga. (PRWEB) March 13, 2019
Luciano "Louis" Charles Graziano was a small-town boy who had to grow up fast when he was drafted into the army during World War II. Now 95 years old, Graziano shares his personal story and photographs that document his experiences during the biggest and deadliest war in history.
In "A Patriot's Memoirs of World War II" (published by LifeRich Publishing), a memoir that reveals the good, bad and ugly of war and beyond, Graziano leads readers through his life experiences via personal stories and historical photographs that provide a candid glimpse into what it was like to be a young soldier before, during and after World War II. While revealing his experiences and thoughts, Graziano demonstrates how he exhibited courage amid heartbreaking loss, trusted God to protect him, and found love with a beautiful fellow soldier.
Among Graziano's documented experiences were landing with the third wave on D-Day on Omaha Beach, fighting the Battle of the Bulge, and witnessing the signing of the Instrument of Surrender at the Little Red Schoolhouse. Included are personal letters and commendations as well as interesting historical facts. To purchase and to know more about the book, interested parties may visit
https://www.liferichpublishing.com/Bookstore/BookDetail.aspx?BookId=SKU-001191102.
"As we focus on our country today, we must look back to our history to help us appreciate how we became the greatest power on earth and the men and women who fought to make this happen," says Graziano. "I would like for readers to appreciate our country and the freedom she affords to her citizens."
"A Patriot's Memoirs of World War II: Through My Eyes, Heart, and Soul"
By Luciano "Louis" Charles Graziano
Hardcover | 5.5x8.5 in | 142 pages | ISBN 9781489720504
Softcover | 5.5x8.5 in | 142 pages | ISBN 9781489720481
E-Book | 142 pages | ISBN 9781489720498
Available at Amazon and Barnes & Noble
About the Author
Luciano "Louis" Charles Graziano was born on Feb. 6, 1923, in East Aurora, New York. He lived there until he went into the service at the age of 20. He met his wife, a fellow soldier, in France. He came back to New York after the war and went back into his profession as a hairstylist. He and his wife started a family and had four children, born in New York. His wife was from the south and did not like the hard cold winters there, so they moved to Georgia to be closer to her sister. He took a job at Belk's in Augusta, Georgia as a hairstylist. Having so many customers from the surrounding areas, they decided to make Thomson, Georgia their home. He moved there in 1956 and opened a hair salon. Two years later, their fifth child was born. He has made Thomson his home for the last 63 years. Now at the age of 95, he is still a member of the Veterans of Foreign Wars (VFW), and active with the Knights of Columbus, Queen of Angels Catholic Church, and all his family. He still works part-time as a hairstylist.