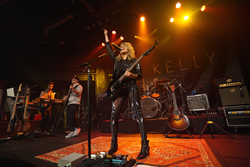 With several other North American dates planned, the touring operation has since embraced Antelope and never looked back.
Santa Monica, Calif. (PRWEB) July 28, 2015
On Antelope Audio's latest video of an exclusive performance of 'Confetti', Tori Kelly showcases her confidence and versatility as writer, performer, arranger, instrumentalist and vocalist. The session — mixed and engineered by the inimitable Mick Guzauski — is a sonic euphony, calling on key touchstones of the Antelope Audio ecosystem: the Orion32, the MP32 microphone preamplifier, the 10M Atomic Clock and the Zen Studio. The pristine sound of Antelope Audio can also be heard on Tori Kelly's North American tour, which is supported each night with eight tracks of pristine playback running through the Orion32 interface.
Making her chart-topping album Unbreakable Smile come to life on stage was a formidable challenge. Allwyn Kelly, Tori's father, explains how the tour happened upon Antelope Audio: "We were in need of a stem player and I was seeking the best sounding solution to help make Tori's performances sound just like the record," he says. "However, because of a myriad of challenges, this is often not possible. Antelope has become my savior, so to speak, and now the backing tracks add a richness in the quality of our live performances that we've never experienced before."
"It seems like most playback systems have a harsh quality to them — especially when the vocals and keyboards kick in," Allwyn continues. "The Orion32 just destroys everything else we have heard and now I am hearing very natural sounding mids, as well as a tight presence in the low end." Tori Kelly's playback tracks run through Logic, with each of the eight tracks through a Radial SW8 Auto-Switcher before being played back by the Orion32 interface.
Antelope Orion32: Equally Comfortable On Tour or In The Studio
Kelly initially heard of Antelope through a bass player colleague and was soon connected with the company's U.S. Sales Director, Marcel James. It wasn't long before James set up a live demo of Antelope gear, highlighted by a recording session with Tori Kelly recorded and mixed by GRAMMY Award-winning engineer Mick Guzauski. The exclusive session, which is available on YouTube, featured Kelly performing 'Confetti' — a song that she originally composed, produced and recorded all by herself in her bedroom many years ago.
"Tori writes all her own music, so it was very easy to go back and find an appropriate song," says Allwyn. "We chose 'Confetti' because it really shows off Tori's skills as a multi-dimensional artist. The band, the engineering, equipment and performances were so good that I think we only did two or three takes, and then it was a struggle to decide which to use. When have an amazing engineer and you have all this top class equipment from Antelope you are really drawn into the end result — which was amazing!"
Working with Guzauski — who manned an Orion32 multi-channel converter, an MP32 multi-channel mic preamp, and a 10M atomic clock, while monitoring on a Zen Studio — was a special experience for Allwyn and the rest of the Tori Kelly camp: "As soon as Mick Guzauski walked in the room and shook my hand, I saw the way his eyes were moving around the set up and I knew we were in for a treat. From the way he recorded and mixed it, to the premium sound of the equipment, it was a flawless," Allwyn continues. "It is crystal clear and everything cuts through the mix, even if there are different instruments in the same frequency range — for example a keyboard and a vocal."
With several other North American dates planned, the touring operation has since embraced Antelope and never looked back. At the same time, Allwyn Kelly remains a supportive dad: "I have always taken pride in helping Tori develop, providing her with tools, answering questions and encouraging her to reach out and try new things," he says. "My goal — and I feel it has been fulfilled — has always been to instill the self-confidence she needs to create music on her own: be it producing, writing, singing, or even mixing for that matter."