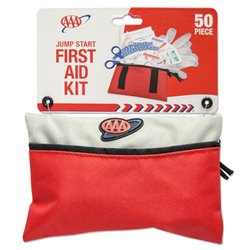 This compact and convenient AAA first aid kit stows neatly in your vehicle.
Issaquah, WA (PRWEB) August 28, 2014
TheHardwareCity.com announces the arrival of the AAA Jump Start 50 Piece First Aid Kit at their online store. The kit joins the home improvement store's extensive online catalog. Consumers can purchase household supplies and tools through one online store and have them delivered for free.
The AAA First Aid Kit is a lightweight starter first aid kit that can bestowed in a vehicle without taking up much space or taken along on a hike or journey. The first aid kit comes in an AAA soft-sided bag that is compact and includes belt loops.
The first aid kit now available at TheHardwareCity.com comes with all necessary first aid supplies in case of injury incurring minor cuts and scrapes. The bag includes five small bandages, 24 large bandages, one knuckle bandage, one sterile gauze pad, one conforming gauze roll, one adhesive tape roll, one pair of scissors, two vinyl gloves, two safety pins, two cotton tipped applicators, one lip balm, two alcohol prep pads, one sting relief pad, three antiseptic towelettes, and one triple antibiotic ointment. Consumers also receive a first aid guide, which gives directions for the care of wounds.
TheHardwareCity.com is delivering the convenient first aid kit for a discounted price, which is 36% below retail. Customers can also have the first aid kit delivered to their home or office for free.
About TheHardwareCity.com:
Offering customers discounted prices and free shipping, TheHardwareCity.com is a leading online home improvement store. The hardware store was established in 2007 and has since grown its customer base due to offering top customer service. Live online chat is available every weekday, in which customers can receive advice concerning any of the various products available through the online store. Visit http://www.thehardwarecity.com/ to browse the store's numerous hardware departments, including household supplies, home hardware, power tools, hand tools, bath accessories, lawn and garden, building supplies, electrical, heating and cooling supplies, plumbing, and more.