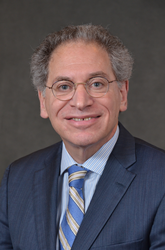 'I am humbled and grateful for the opportunity to serve as AAAAI President,' said Dr. Lang. 'During my term, I plan to focus on a set of initiatives that revolve around the topics of quality, education, and technologic innovation.'
MILWAUKEE (PRWEB) March 22, 2019
The American Academy of Allergy, Asthma & Immunology (AAAAI) is pleased to introduce its 2019-2020 President, David M. Lang, MD, FAAAAI.
Dr. Lang was installed February 25 during the AAAAI Business Meeting at the 2019 AAAAI Annual Meeting in San Francisco, California. The AAAAI is the largest professional membership organization for allergist/immunologists, other medical specialists, allied health and related healthcare professionals—all with a special interest in the research and treatment of allergic and immunologic diseases, including asthma.
"I am humbled and grateful for the opportunity to serve as AAAAI President," said Dr. Lang. "During my term, I plan to focus on a set of initiatives that revolve around the topics of quality, education, and technologic innovation."
Dr. Lang serves as Chairman of the Department of Allergy and Clinical Immunology, Co-Director of the Asthma Center, and Director of the Allergy/Immunology Fellowship Training Program in the Respiratory Institute at the Cleveland Clinic. He also teaches evidence based medicine at the Cleveland Clinic Lerner College of Medicine.
He has carried out a number of research projects, including studies of the epidemiology of urban asthma, drug allergy, anaphylaxis, and chronic urticaria. He has been active in national and regional medical organizations, and has published more than 100 articles in the medical literature. He was a member of the Joint Task Force on Practice Parameters for the specialty of allergy and immunology from 2001 to 2018, and also served as Co-Chair. He previously completed a 4-year term on the Board of Directors of the AAAAI. He has been active in the National Quality Forum, serving as Chair of the National Quality Forum Pulmonary and Critical Care Standing Committee, as a member of the National Quality Partners Antibiotic Stewardship Action Team, and currently as a member of the Primary Care and Chronic Illness Committee.
Dr. Lang has been selected annually as a "Top Doc" in allergy/immunology by Cleveland Magazine and as one of the Best Doctors in America for more than a decade. He currently serves as Deputy Editor for the Journal of Asthma, and is on the Editorial Board of Allergy and Asthma Proceedings; he previously served as Associate Editor and Section Editor of the Annals of Allergy, Asthma, and Immunology. Lang received the Hahnemann University Hospital Leadership Award in 1996, and was the recipient of the Pharmacia Allergy Research Foundation Award at the International College of Allergology and Clinical Immunology meeting in Stockholm in 1994.
Dr. Lang received his medical degree from the University of Michigan in Ann Arbor and completed residency training in internal medicine at Henry Ford Hospital in Detroit. He also served an additional year as chief medical resident, prior to pursuing subspecialty training in allergy and clinical immunology at Scripps Clinic and Research Foundation in La Jolla, California.
He is board-certified by the American Board of Internal Medicine, the National Board of Medical Examiners, and the American Board of Allergy and Immunology, for which he completed voluntary re-certification in 2005 and 2015.
His medical career has been supported by his wife, Marjory, and two children, Madelyn and Jonathan. He appreciates the support from his family, friends and colleagues, and is grateful for opportunities to contribute to the field of allergy and immunology.
The American Academy of Allergy, Asthma & Immunology (AAAAI) represents allergists, asthma specialists, clinical immunologists, allied health professionals and others with a special interest in the research and treatment of allergic and immunologic diseases. Established in 1943, the AAAAI has over 7,000 members in the United States, Canada and 72 other countries. The AAAAI's Find an Allergist/Immunologist service is a trusted resource to help you find a specialist close to home.
###