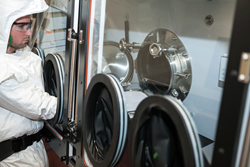 We see the Potent Compound Suite as an important asset to serve the growing oncology market as more companies look to advance their lead candidates into the clinic
Morton Grove, IL (PRWEB) April 16, 2015
Regis Technologies looks forward to being part of the American Association for Cancer Research (AACR) annual meeting. Regis will exhibit at this year's show at the Pennsylvania Convention Center, starting Saturday, April 18, in Philadelphia and running through April 22, 2015.
The AACR holds claim to title of the oldest and largest organization focused on cancer research. It publishes several journals, provides fellowships and grants, and partners with survivors to promote awareness and research funding.
In addition to these activities, they hold multiple conferences each year to connect members of the cancer research scientific community. Regis is proud to participate and feature their new Potent Compound Suite (PCS) at AACR's 2015 annual meeting.
Regis has long been a premier supplier of custom API development and scale up services and now with the addition of the PCS extends that expertise to the oncology market. The PCS will provide for small molecule cGMP manufacturing of potent compounds up to about one kilogram per batch.
Proper handling of potent compounds requires the use of specialized facilities that are carefully designed to minimize containment risks. This involves equipment such as isolators, laminar flow hoods, and local exhaust ventilation appropriate for potent compound handling. Under the direction of its Manager of Process Engineering, Dragan Ristic, Regis designed and constructed the suite over two years. Ristic brought in expert consultants for staff training and an independent lab to assess the suite's containment capability. PCS is currently in its final testing stages and expected to be active this spring.
Director of Business Development, Wayne Nowicki, states, "We see the PCS as an important asset to serve the growing oncology market as more companies look to advance their lead candidates into the clinic."
Regis prides its almost 60 year long resume on its commitment to stay at the forefront of industry demand with a team of innovative and dedicated chemists. All involved look forward to supporting oncology research and AACR's mission.
AACR's annual meeting begins Saturday, April 18, and has a full five day technical program.
Look for Regis' Pharmaceutical Services staff on the exhibit floor in Booth 458. Click for more information on AACR 2015, and click here to schedule a meeting with Regis at AACR.