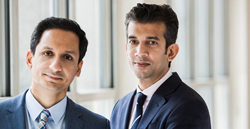 We feel very fortunate that we are in a position where we can make a positive impact on people's lives.
New York, NY (PRWEB) February 08, 2016
Aadil Zaman and Syed Nishat, Wall Street Alliance Group, are featured in a special section of the Dec. 28 issue of New York magazine as 2016 Five Star Wealth Manager award winners.
Five Star Professional partnered with New York magazine to identify and showcase an exclusive group of wealth managers who have demonstrated excellence in their field.
"We are honored and humbled to receive this award for the second consecutive year. Our clients are high-net-worth individuals who work very hard and have strong family values. Most of them are self-made, and the primary driver of their success is to provide their families a better life. Usually, they are so busy with work that they end up neglecting financial planning. This is where we step in. We help them understand that proper financial planning is the foundation for providing their families' stability. We provide our clients a one-stop shop where we can efficiently take care of all their financial planning needs," says Aadil.
"We feel very fortunate that we are in a position where we can make a positive impact on people's lives. Every day that we work, we enable our clients to provide their families a brighter future. In the process of doing this for our clients, we automatically end up doing the same for ourselves. This is what drives us," says Syed.
The 2016 Five Star Wealth Manager award winners have been carefully selected for their commitment to providing quality services to their clients. The award is based on an in-depth research process incorporating peer and firm feedback with objective criteria such as client retention rates, client assets administered, industry experience, and regulatory and complaint history.
"We believe that, as financial advisors, a significant element of our work is risk management. We spend a lot of time talking to clients about risk management strategies and find it very helpful at the beginning of a relationship to define clearly the client's objectives and the level of risk he or she is comfortable with," adds Syed. "Based on this information, we design their investment strategy. We feel that it is because of our emphasis on risk management techniques that many clients choose to do business with us."
"Based on our evaluation, the wealth managers we recognize are committed to pursuing professional excellence and have a deep knowledge of their industry. They strive to provide exemplary care to the people they serve," states Dan Zdon, CEO, Five Star Professional.
The Five Star Wealth Manager award, administered by Crescendo Business Services, LLC (dba Five Star Professional), is based on 10 objective criteria: 1. Credentialed as a registered investment adviser or a registered investment adviser representative; 2. Active as a credentialed professional in the financial services industry for a minimum of five years; 3. Favorable regulatory and complaint history review (unfavorable feedback may have been discovered through a check of complaints registered with a regulatory authority or complaints registered through Five Star Professional's consumer complaint process*); 4. Fulfilled their firm review based on internal standards; 5. Accepting new clients; 6. One-year client retention rate; 7. Five-year client retention rate; 8. Non-institutional discretionary and/or non-discretionary client assets administered; 9. Number of client households served; 10. Education and professional designations.
Wealth managers do not pay a fee to be considered or awarded. Once awarded, wealth managers may purchase additional profile ad space or promotional products. The award methodology does not evaluate the quality of services provided and is not indicative of the winner's future performance. 2,169 New York City wealth managers were considered for the award; 154 (8 percent of candidates) were named Five Star Wealth Managers.
*To qualify as having a favorable regulatory and complaint history, the person cannot have: 1. been subject to a regulatory action that resulted in a suspended or revoked license, or payment of a fine, 2. had more than three customer complaints filed against them (settled or pending) with any regulatory authority or Five Star Professional's consumer complaint process, 3. individually contributed to a financial settlement of a customer complaint filed with a regulatory authority, 4. filed for bankruptcy, or 5. been convicted of a felony.
For research methodology information visit http://www.fivestarprofessional.com.