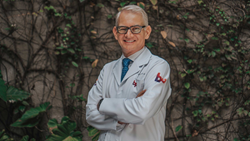 We're celebrating AAGL's 50th Anniversary with an amazing lineup of Postgraduate courses, Hand-on Labs and more, creating the most extensive Continuing Medical Education program in MIGS
CYPRESS, Calif. (PRWEB) October 15, 2021
Following last year's all-virtual event, this year's Global Congress, titled Celebrating 50 Years of Gynecologic Surgery Through Innovation and Globalization, is expected to welcome a significant number of attendees, as people are ready to get back to in-person forums. AAGL is also producing a customizable, entirely virtual attendance option for those who are unable to travel. Known for providing top-notch educational training for gynecological surgeons, the 2021 Congress will feature 19 in-person PG courses and virtual pre-recorded sessions, all of which offer CME credits, led by pioneers of minimally invasive gynecologic surgery from around the globe.
The Scientific Program at AAGL annual meetings are always meticulously developed and are renowned for offering the best in MIGS education. This year's curriculum will consist of PG Courses, Hands-on Surgical Labs, Plenary Sessions, Panels, Debates and Open Communication breakout sessions. Premiering this year, AAGL is excited to introduce AAGL Talks, 15-minute TED-like presentations prior to the General Sessions, that will also provide CME credits. The AAGL Talks will encompass innovative subject matter such as, The Rock and Roll rEvolution of Laparoscopic Surgery, Leadership, Mentorship and Developing New Skills after Training, and Gender Affirmation Surgery for the Transgender Patient.
The hybrid event will offer PG courses with a wide array of topics, such as Laparoscopic Hysterectomy, Fibroids & Adenomyosis, Reproductive Surgery, Surgical Anatomy, Endometriosis, Surgical Robotics, Oncology, Urogynecology, and Pelvic Pain.
AAGL Scientific Chair, Dr. Mauricio Abrão from Clinica Medicina da Mulher in Sao Paulo, Brazil stated "Endometriosis impacts 10%-15% of women and is the main cause of pelvic pain and female infertility and this year's Congress features many PG Courses, Open Communications, Panels, Plenary Sessions, and Surgical Tutorials on the topic." One such PG Course, Diagnosing and Evaluating the Extent of Endometriosis and Adenomyosis with Imaging, led by surgeons from Sydney, Rome, and Barcelona will provide evidence-based techniques for evaluating adenomyosis and endometriosis with pelvic sonography. These surgical experts will also share their strategies for recognizing and confidently diagnosing these conditions.
Attendees wishing to obtain more knowledge about Hysteroscopy will want to attend the postgraduate course, Becoming an Hysteroscopy Guru led by co-chairs Dr. Luis Alonso Pacheco from URE Centro Gutenberg in Malaga, Spain and Dr. Christina A. Salazar from The University of Texas at Austin. For practical experience, the Hands-on Lab, Advancing Your Hysteroscopy Skills with Global Experts co-chaired by Dr. Attilio Di Spiezio Sardo, University of Naples and Dr. Amy L. Garcia of New Mexico, along with a talented panel of international experts in MIGS will provide direct practice to augment surgical skillsets.
Approximately 75% to 80% of women experience fibroids, according to Dr. Linda Bradley, of the Cleveland Clinic Department of Obstetrics and Gynecology, who will be leading an AAGL Talk on Hysteroscopy. Fibroids will be the topic of two PG courses during the Congress. Fibroids & Adenomyosis - Extirpative Non-Hysterectomy presented by co-chairs Dr. Errico Zupi, Associate Professor in the Department of Obstetrics and Gynecology at the University of Rome and Dr. Joerg Keckstein, Professor of Gynecology and Obstetrics at Universitat Ulm, Germany will provide all the most recent results in approaching two of the more common women's pathologies, Adenomyosis and Uterine Fibroids and PG course Fibroids: Non-Extirpative Surgical Medical and Radiologic, led by Co-Chairs: Dr. Sarah L. Cohen-Rassier, Assistant Professor, Division of Gynecology, Mayo Clinic in Rochester, MN and David J. Levine from Mercy Clinic Minimally Invasive Gynecology in St. Louis, MO will provide a comprehensive update of the options for non-extirpative treatment of uterine fibroids, including medical management, radiologic techniques (Focused Ultrasound Surgery and Uterine Artery Embolization) and surgical procedures using Radiofrequency Ablation.
More information on the postgraduate courses, industry symposia, and other activities taking place at the AAGL Global Congress on MIGS, November 14 through November 17, 2021 in Austin, Texas and online can be found at the AAGL Global Congress webpage.
About AAGL
AAGL is a professional medical association of laparoscopic surgeons and is the global leader in minimally invasive gynecologic surgery. AAGL's mission is to elevate the quality and safety of health care for women through excellence in clinical practice, education, research, innovation, and advocacy. For the last 51 years, the AAGL has created a culture of contribution among its members and facilitated a worldwide exchange of information regarding gynecological breakthroughs and best practices. Find out more about the AAGL at: http://www.aagl.org.
For more information, please contact Doreen Wiley, Marketing & Communications Manager, AAGL, at 714-503-6208 or dwiley@aagl.org