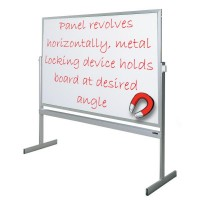 Russellville, KY (PRWEB) April 30, 2014
Whiteboard-AtoZ.com, a premier Internet provider of Claridge whiteboards, chalkboards, and combo boards, is proud to offer a 10 percent discount on any order more than $1000 dollars. The announcement illustrates this whiteboard supplier company's dedication to helping its largest and most loyal customers save money on their most important needs.
The team at Whiteboard A to Z know their customers are often educational and institutional organizations that can understand the importance of stretching their resources as far as possible. They value the loyalty of their customers and hope to show their support by providing this discount on whiteboards and other supplies. The team at Whiteboard A to Z believes the discount is a great way to demonstrate they care about the mission of these organizations, that they stand behind their customers, and want to help them be successful.
The announcement comes at an important time for educational organizations. The financial crisis caused budget problems in school systems across the country, but a new report from the Center on Budget and Policy Priorities shows a shocking trend: per-pupil school funding for the 2013-2014 school year is still lower than it was before the recession--in some cases, much lower. At least 34 states announced less funding per student in 2013-2014 than they did before the recession. Statistics such as these demonstrate the importance of offering discounts to our nation's public schools. At Whiteboard-AtoZ.com, they may not be able to fix the funding issues, but they are proud to help their educational partners get the resources they need.
The discount is not limited to their educational partners. Whiteboard A to Z recognizes that all their customers requiring large orders can use a little help. A large variety of whiteboards and other supplies can be found on their easy-to-navigate website at whiteboard-atoz.com.
About Whiteboard A to Z
Whiteboard A to Z, a division of KD Specialty Contractors, Inc.has been in business since 1999 and started Whiteboard-AtoZ.com to serve more people over the internet by offering excellent products at great prices. Their website was designed to be easy and user-freindly. Freight quotes can be instantly calculated at check out so there are no hidden costs or waiting time.
Whiteboard A to Z has installed their products in hundreds of schools, businesses and churches. They can customize almost any product in their inventory, so if you don't see exactly what you are looking for, they can help you order the features you need. The top online whiteboard supplier, Whiteboard A to Z offers the most popular brands including Quartet, Best Rite, AARCO, and Claridge.
David Scott
http://whiteboard-atoz.com
Whiteboard A to Z
215 Devasher Road
Russellville, KY 42276
(888) 767-7006