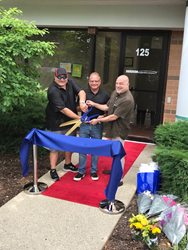 WOOD DALE, Ill. (PRWEB) August 14, 2019
Aaron Equipment Company Inc. relocated its headquarters to its new location in Wood Dale, Illinois on July 19, 2019. The new office is still within the convenient proximity to O'Hare International Airport.
Within the past year, Aaron also purchased a 110,000 square foot crane building in Belvidere, Illinois, approximately 45 minutes from Aaron's new offices. The Belvidere, IL plant will serve as a repair, assembly and storage facility. Aaron also secured additional storage capability in Memphis, TN, Coal City, IL and Spokane, WA.
The entire company, which included the owners, Alan, Michael and Bennett Cohen, celebrated the opening of their new headquarters with a ribbon cutting ceremony. KC Christensen, President of the Packaging Division, presided over the event and spoke about the company's 85-year history and an inspirational vision for the future.
The new address for Aaron Equipment Company is:
201 Hansen Ct., Suite 125
Wood Dale, IL 60191
Aaron Equipment Company remains the preeminent dealer of used process equipment and packaging machinery. We will continue to buy and sell high quality equipment, offer asset management, auction and liquidation services.
Aaron is always looking to purchase surplus process and packaging equipment including centrifuges, dryers, generators, kettles, mills, mixers, plastics equipment, reactors, tanks, and silos to name a few. Aaron buys single items, complete lines and entire plants.
For more information on the relocation or to buy and sell surplus process and packaging equipment, please call: 630-350-2200, email: sales@aaronequipment.com or visit: http://www.aaronequipment.com.
Contact Information
Michael Cohen
Aaron Equipment Company
http://https://www.aaronequipment.com/
630-350-2200