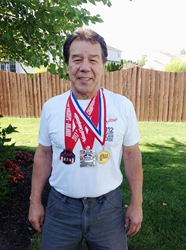 (PRWEB) October 24, 2016
Inspiring 73-year-old powerlifter and Oneida Indian Nation member Ray Fougnier recently set three new world records and became the 2016 AAU (Amateur Athletic Union) World Powerlifting Champion for his division at the Sept. 23-25 event in Las Vegas, Nevada.
Fougnier won his class championship by bench-pressing 198.42 pounds (90 kg), squatting 297.62 pounds (135 kg) and deadlifting 407.85 pounds (185 kg). Recently moving up a weight class (from 181 lb. to 198 lb.), Fougnier was able to not only win in his age category of 70 to 74 year-olds, but also set three new world records in squat, deadlift and for the highest total of all three lifts within his division.
His sponsor, the Oneida Indian Nation congratulates Ray on his latest success and is proud to continue supporting his travels for the sport and his mission to inspire all Native Americans to embrace fitness and exercise regardless of age.
Former head of the American Indian program at Cornell University and a retired teacher, Fougnier only recently joined powerlifting in his 70s. Despite the late start, the self-trained phenom now holds numerous world powerlifting records in different weight divisions, as well as state records in both Michigan and Tennessee, where he splits his time.
About the Oneida Indian Nation
The Oneida Indian Nation is a federally recognized Indian nation in Central New York. A founding member of the Haudenosaunee Confederacy (also known as the Six Nations or Iroquois Confederacy), the Oneida Indian Nation sided with the Americans in the Revolutionary War and was thanked by Congress and President George Washington for its loyalty and assistance. Today, the Oneida Nation consists of about 1,000 enrolled Members, most of them living in Central New York. The Nation's enterprises, which employ more than 4,500 people, include Turning Stone Resort Casino, Yellow Brick Road Casino, the SāvOn chain of gas stations and convenience stores, RV Park, three marinas, Indian Country Today Media Network – the premier national multi-media source for American Indian news and information, and Four Directions Productions – a 3D animation HD cinematography studio. Proceeds from these enterprises are used to rebuild the Nation's economic base and provide essential services, including housing, health care, and education incentives and programs, to its Members.
For more information, visit the Nation's website http://www.OneidaIndianNation.com.