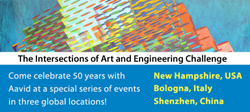 The Art and Engineering Challenge is an important event for Aavid and I'm looking forward to sharing it with the communities in which we live and work
Laconia, NH (PRWEB) June 05, 2014
Aavid invites the global community to join in celebrating 50 years of innovation with a global challenge, "The Intersections of Art and Engineering." The challenge is a call for innovators, engineers, designers, and artists from around the globe to submit work exploring the connections between art and technology.
Aavid believes innovative ideas change the world and understands engineering becomes more powerful when it is paired with human ingenuity, creativity and critical thinking. Aavid's CEO, Alan Wong, said the exhibition is an opportunity to engage the global community and showcase the latest innovative thinking from around the world. "Aavid has been providing innovative thermal designs with high performance and lasting quality for half a century. The Art and Engineering Challenge is an important event for Aavid and I'm looking forward to sharing it with the communities in which we live and work."
Selected Entrants' work will be exhibited in three of Aavid's global locations including the USA, Italy, and China. Entrants will have a chance to win a portion of $40,000 in cash awards. There is no cost to enter the challenge and the deadline to submit work is July 7th, 2014. All mediums will be considered. More information about the challenge can be found online at http://www.aavid.com/art.
About Aavid Corporation
With 50 years of product development, engineering innovation and manufacturing expertise, Aavid is the thermal management provider selected by the world's leading technology companies for quality products and creative designs. Aavid's global infrastructure includes manufacturing facilities and design centers located in North America, Europe and throughout Asia. Operating with more than 2,800 employees and utilizing global resources and a broad portfolio of manufacturing capabilities and engineering advancements, Aavid delivers quality products and creative designs worldwide.