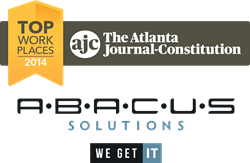 Marietta, GA (PRWEB) March 28, 2014
IT Solutions Provider Abacus Solutions is pleased to announce that it has been selected as one of The Atlanta Journal-Constitution Top Workplaces for 3 years running. The award reflects the highly collaborative team at Abacus that works with customers to deliver IT strategy, cloud enablement, technology solutions, and managed services for companies ranging from Enterprise-size to emerging industry leaders.
"It's an honor to be recognized by the AJC for being a great place to work. The fact that the award is based solely on employee input is very satisfying. We provide the structure by encouraging our team to communicate with respect and empowering them to always make the best decisions for the client. But it's our dedicated and highly skilled team of engineers, account reps, administrators, and managers that make our workplace come alive. Our team members have earned the high trust we put in them and it feels great to see that collectively they appreciate working together to support each other and our clients," said Abacus President Ken Snuggs.
CEO Patrick Hiller says he and Abacus co-founder and President Ken Snuggs had a simple goal from the beginning about how they wanted the company to operate and that workplace culture would be a significant factor in being successful. "We knew that if we could empower our team to focus on helping the client with vendor neutral solutions rather than focus on sales, we could build strong repeat business with our customers and referrals because they would trust us to have their best interests at heart in all transactions. Our transition into an in-demand provider of IT strategy and managed solutions evolved organically as we saw new ways to help clients improve their business outcomes, and often at the request from existing customers for additional strategy and services. Our success is directly related to the trust we put in our employees and the trust our clients put in our team," said Hiller.
The Workplace awards are based on detailed employee surveys that measure job satisfaction and workplace culture. The employee survey is conducted by WorkplaceDynamics, LLP, a leading research firm on organizational health and employee engagement.
For more information about the Top Workplaces lists and Workplace Dynamics, please visit http://www.topworkplaces.com and http://www.workplacedynamics.com.
About Abacus Solutions
Abacus Solutions is a premier IT solutions, technology, and managed services provider based in Atlanta, GA. We bring together strategy, technology, services, and engineering expertise to simplify and improve the business operations of our clients. We specialize in Managed Solutions, Cloud services and Virtualization, Networking and Security, Storage and Archiving, Business Continuity, and Disaster Recovery. We partner with dozens of leading manufacturers and we have one of the most extensive inventories of new and refurbished gear. This allows us to design impartial technology solutions that serve the best needs of each of our diverse clients.
For more information please visit us at http://www.abacussolutions.com.