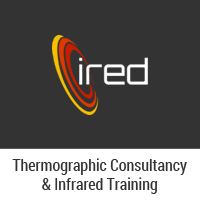 The new ABBE Level 4 Diploma in Built Environment Infrared Thermography from iRed delivers industry leading qualifications designed for the commercial environment
Emsworth, Hampshire (PRWEB UK) 4 March 2015
The brand new ABBE Level 3 Certificate in Domestic Infrared Thermography and ABBE Level 4 Diploma in Built Environment Infrared Thermography have been designed and developed in-house by the team over at iRed. With extensive, industry accredited experience both in the field and in the classroom, iRed have created multi-module competency-based courses that facilitate in-depth Thermography training without the need for prior experience or pre-allocated training hours.
As Tim Mammatt, iRed's Business Development Manager explains;
"Our ABBE courses are brand new to the UK and we are, at present, the only training provider to be offering thermography training to this level and in this way. We've developed both courses from the ground up so we've created something that truly supports current domestic, commercial and industrial building practices in a way that is both practical and cost effective for the practitioner and the client. In taking this approach, we've created thermography training courses that are setting a new benchmark for best practice principles in the built environment."
This competency-based approach is unique in helping support existing building specialists to progress their professional skills and services portfolio into areas that have historically required extensive prior training. The ABBE Level 3 in particular has been specifically tailored to support the needs of individuals who have had no prior experience of thermography and who wish to take a confident first step into a highly specialised area.
Direct Level 4 entry bridges the gap for all qualified building practitioners, built environment specialists, energy assessors, domestic Green Deal advisors, surveyors and home inspectors to add enhanced value whilst applying new working methodologies to their professional practice.
Importantly, at a time when the cost of thermal imaging equipment is reducing, allowing for much greater accessibility, iRed's ABBE Level 3 & Level 4 courses are leading the way in raising training standards and delivering industry recognised qualifications that are fully accredited for application within a commercial environment.
The ABBE Level 4 Diploma starts 16th-20th March 2015, with online booking currently receiving an introductory 10% discount off iRed's VAT inclusive price. To book a place or find out more visit http://www.ired.co.uk or contact the training centre training(at)ired(dot)co(dot)uk on +44 (0) 1243 370 296.
iRed's industry-leading team of thermography consultants are experts on the use of thermography in property, commercial, industrial and scientific industries, providing consultancy, services and training across the UK. iRed have dedicated training centres situated in Portsmouth, Emsworth and around the UK and provide on-site training at client locations as required.