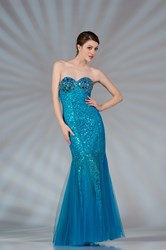 Los Angeles, California (PRWEB) November 22, 2013
Abby Dresses, one of the top online retailers of dresses for women, unveils its latest collection comprising of the latest styles of the season from some of the top designers.
Whether one is looking for prom dresses, modest dresses, designer dresses, party dresses, cocktail dresses or even bridesmaid dresses, Abby Dresses has it all. From cheap prom dresses to top of the line dresses, no matter the buyer's tastes and fashion sense, one will be able to find everything under one roof without ever leaving the comfort of home.
One no longer has to make a quick trip to Forever 21, Simply Dresses, Dress Barn or even to Ross Dress for Less to find the perfectly priced dress for a special occasion. Abby Dresses boasts everything a woman could possibly need and want. From a wide range of celebrity dresses to something more specific like a black prom dress, Abby Dresses caters to all fashion divas who come knocking.
It is understandable that buying a dress online can be a tedious affair. Not only would the buyer not be able to try it on or be able to gauge what the material feels like, there is always the possibility that the dress may not fit well and that the buyer will need to return or exchange it. Abby Dresses has come up with a list of things that online shoppers should take note of when shopping for the perfect prom dress, or any party dress for that matter, online.
1. Get One's Measurements
Before even attempting to shop online, it is advisable that one takes down one's measurements. Get a friend to help and note the exact measurements of one's bust, waist, hips, arms, shoulders and height. Armed with these measurements, it will make the task of shopping for a designer dress, cocktail dress or any type of dress online so much simpler. It is advisable that one not purchase a dress based solely on the size stated as different styles, cuts and fabrics may affect the overall size of the dress. Opt to shop based on measurements instead.
2. Know One's Materials
Abby Dresses is pleased to inform all buyers that every dress sold through their website comes with an informative description. Most noteworthy are the styles and fabric used. Fabrics such as organza, tulle, satin, lace and many more are some of the top materials used for bridesmaid dresses, party dresses and prom dresses, hence it is important that the buyer have a basic idea of what these materials look and feel like before buying a dress made out of it. For example, should the buyer be looking for something specific like a pink prom dress, it is always best to take note not only of the waistline cut, neckline and length, but also the fabric.
3. Have a General Idea
Abby Dresses is proud to announce that they have hundreds of dresses for sale to cater to every woman's discerning tastes and fashion sense. Although all the dresses are categorized in an orderly fashion and listed according to style such as "weddings", "prom dresses", "sequin dresses", "ball gowns", and so on, it is still advisable for the buyer to have a general idea of what she wants before going through the entire list. For example, if the buyer is looking for a cocktail dress, it is safe to assume that the category "short dresses" will be the first place to search. If the buyer is looking for sweet 16 dresses, then heading to that category will be the best bet.
Overall, Abby Dresses offers a simple and incredible shopping experience to its customers. Whether buyers are seeking prom dresses, bridesmaid dresses, cheap dresses, modest dresses or party dresses, Abby Dresses has them all.
To find out more about Abby Dresses and to check out the latest collection of dresses on sale, contact them at their website or call 1-877-913-6539.